Charleston is one of the South's most popular cities for visitors and constantly holds events and festivals like Spoleto USA, Charleston Wine + Food Festival, Cooper River Bridge Run and the Southeastern Wildlife Expo. It's been named one of the friendliest cities and is a favorite of travel publications. It's also home to dozens of internationally recognized and award-winning restaurants.
The colony was founded as Charles Towne in 1670 in honor of King Charles II of England. As a port city, it became home to settlers from Bermuda as well as infamous pirates like Blackbeard. It served as an entry point for the Middle Passage from Africa, bringing slaves to the nearby plantations. It was also the site of a few Revolutionary War battles before "the shot heard round the world" at Fort Sumter, signaling the start of the Civil War. It was also the setting for Gershwin's classic opera, Porgy and Bess.
What to Do
Charleston City Market– The Charleston City Market has been selling everything from produce to gifts to locals since the 1800s. After a recent renovation, the market stalls are looking better than ever, showcasing the foods, gifts, and wares that make the city so beloved. Be sure to check out one of the Gullah women weaving Sweetgrass baskets. 188 Market Street
Rainbow Row– Located near The Battery, the bottom of the peninsula of Charleston, these iconic multicolored homes are some of the oldest in the city. It's a great place to admire the stunning houses and pretend you're one of their residents. East Bay and Broad streets
The Charleston Museum– As the oldest museum in the country, the Charleston Museum details the history of the city and colonial America. Admire the Egyptian artifacts, the whale skeleton, and antebellum clothing. Admission also can get you entry into one of their historic houses. 360 Meeting Street
Gibbes Museum of Art– Charleston's hometown art museum opened in the 1900s because of the work of a local philanthropist who gave the property his name. Exhibitions usually have some connection with Charleston or the South and the permanent collection features colonial portraiture and more contemporary pieces. 135 Meeting Street
Irvin House Vineyards and Firefly Distillery– The original sweet tea vodka is brewed and distilled on Wadmalaw Island, one of the area's barrier islands. You can try all types of their vodka at the distillery, including those not usually sold to the public. 6775 Bears Bluff Road, Wadmalaw Island
Angel Oak– The oldest living thing east of the Mississippi is a majestic oak tree that has shaded picnickers and served as a jungle gym for children for hundreds of years. It's estimated to be over 400 years old and it's free to visit the park. 3688 Angel Oak Road, Johns Island
Since Charleston is surrounded by water on three sides, kayaking is a fun activity for all ages. You can leave from Shem Creek in Mt. Pleasant or from James Island for differing perspectives on the area.
The beaches are another place to visit in Charleston when you've had enough of the dining, shopping and sightseeing downtown. Choose from Folly Beach, Isle of Palms or Sullivan's Island.
A visit to Charleston wouldn't be complete without a trip to one of the many plantations in the region that have been made famous by their majestic avenues and settings for films.
Sporting events are another great way to experience the city. Attend a minor league baseball game with the Charleston Riverdogs, the Charleston Battery soccer team, the Charleston Stingrays hockey or the Lowcountry Highrollers roller derby.
Where to Eat
You can't go wrong with hardly any restaurant in town, so rest assured. Check out reservation times on OpenTable or read reviews in the Charleston City Paper. I've listed my personal favorites, which are budget-friendly and splurge-worthy.
Bowen's Island Restaurant– It's one of the most beloved seafood joints in town, feeding generations of locals after two devastating fires. Set on a dirt road off James Island, Bowen's is simple but authentic, as you order at the counter (and it's cash only!) and grab a seat at the dock. The crew will bring you oysters by the shovel full straight from the inlet.  1870 Bowens Island Road, James Island, (843) 795-2757
Poe's Tavern– Named for Edgar Allen Poe, who spent time in the military on Sullivan's Island, this neighborhood watering hole serves up burgers and tacos, as well as craft beer. Sit on the porch for prime people watching. 2210 Middle Street, Sullivan's Island, (843) 883-0083
82 Queen– Frequently named one of the city's best restaurants, 82 Queen is steps away from famous spots like the Mills House. They're known for their brunch menu as well as the she-crab soup, a local specialty that is creamy and decadent. 82 Queen Street, (843) 723-7591
Jack's Cosmic Dogs– For a quick bite during a trip to Mt. Pleasant or James Island, try Jack's Cosmic Dogs, who offers some wacky toppings on the traditional hot dog, namely their sweet potato mustard. Grab a side of hand cut fries and a vintage soda for the full experience. 2805 U.S. 17, Mount Pleasant, (843) 884-7677
Fleet Landing– As downtown's only waterfront dining experience, Fleet Landing sets the bar for great seafood at a reasonable price. The building is a former navy dock and it keeps up the theme in its decor. 186 Concord Street, (843) 722-8100
The Glass Onion– Known as "soulful food," The Glass Onion has a fine dining mentality but without the price. Specials change often due to what's fresh and in season, but their Anson Mill grits and buttermilk quail are always a hit. 1219 Savannah Highway, West Ashley, (843) 225-1717
Gaulart & Maliclet Fast & French Inc.– Located near the "four corners of the law," Gaulart & Malicet, known as "Fast and French," is a favorite of law offices and students, as it offers delicious French cuisine for fast and cheap. 98 Broad Street, (843) 577-9797
Where to Stay
There's something for every budget in Charleston, from AAA Diamond award-winners like Charleston Place to a surprising budget travel experience at NotSo Hostel. For those who are bringing their RV or just want a different type of experience, there's a KOA Campgrounds that allows you to rent out old rail cars and there are plenty more in the county and state parks nearby. I've also had good experience with apartment rentals in Charleston, specifically beach houses.
Book your stay in Charleston with our preferred partner.
Getting Around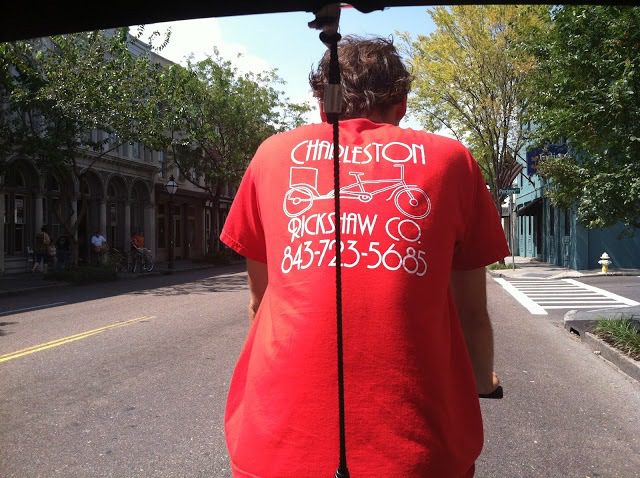 If you're staying on the peninsula, known as downtown Charleston, you can reach just about anywhere in a 30 minute walk. The city is very walkable, especially between the tourist attractions. Grab a tourist map of the city from the Visitor's Center on Meeting Street to help you navigate the area on foot.
For longer distances, you can ride a bike, which guests can borrow from Not So Hostel or you can rent from The Bicycle Shoppe on Meeting Street for $7-10 per hour, $28-40 per day or $50-120 per week. They offer both beach cruisers, pictured above, and hybrid bikes for downtown and Mount Pleasant. Cruisers are single speed with baskets. Be sure that you have get a lock, as bike theft is common.
Driving in Charleston is essential if you're exploring areas like Wadmalaw or Kiawah islands, but can be avoided entirely if you're staying downtown. Hotel parking and the visitor's center deck will cost you at least $10 per day and most don't have an in and out policy. Street parking is dicey, as they vary by street, and metered spots are hard to come by. The city writes tickets before you can blink, so you may not want to risk it.
Pedicabs, or bike taxis, are popular with tourists, but aren't very cost effective. The mostly student-run companies are good for getting back to your hotel after a night out on Market Street, but not much else. You're limited to only two people per pedicab, so this isn't a great option if you're in a group.
Taxis are hit or miss in Charleston, as they're hard to hail on the street at certain times of day. It's best to have a few taxi numbers written down in advance. Charleston Green Taxi is well run and has a fleet of hybrid vehicles, while Yellow Cab is one of the most popular companies in town, now with their own app. Uber is another option for Charleston. Simply open the app, request a ride and enter your destination for a quick and cashless ride. They offer UberX, which is their rideshare variety, instead of the black town cars found in other cities.
CARTA is Charleston's public transportation system, which isn't usually employed by visitors. The downtown trolley, known as DASH, offers a free ride that runs through town to the South Carolina Aquarium, the Visitor's Center and King Street. Other services run to the airport in North Charleston, Summerville, West Ashley and beyond. Standard fares are $1.75 each way for standard routes and $3.00 each way for express and flex routes.