Wilmington aka Wilmywood and Hollywood of the East: A small town in North Carolina that superstar celebrities visit every year to film television shows and films. I have to admit, the reason I chose to visit Wilmington initially was because it was once Tree Hill and Capeside (Dawson's Creek). So when in town I had to do a Hollywood Locations Walk with Haunted Wilmington Tours. You know I am so glad I did, too.
Spiel Stevenberg was my guide for the day. I picked a great day too as no one else turned up so I had my own private tour – win! Spiel learned straight away what I was here to see. He said a lot of Australian girls actually come over and participate in his tours, all wanting a glimpse of Tree Hill.
Let me begin by saying I loved this tour. Spiel was engaging, entertaining and so passionate. He had several photo albums in his bag, which were full with clippings and photos concerning Wilmywood. He is able to share stories and show you places you never would have noticed. All with an enthusiasm a lot of tour operators lack. So here is a glimpse of what I saw on my tour.
That Table
The table where Naley (Nathan and Haley) began, when Nathan opened up a box of Cracker Jack's and put the bracelet inside on Haley's wrist, saying "don't say I never gave you anything."
Old City Market
After Dawson's Creek wrapped the studio sold different props at an auction, including this sign, which is now displayed at the Old City Market entrance. Enter on Water Street and walk to the back. On the left wall you will find signatures from Joshua Jackson, Henry Winkler and the like. I was in the same spot earlier in the day and never noticed.
Empire Records
Spiel had me guessing the Australian actors who had filmed in Wilmington, and let's just say I sucked. I had forgotten Anthony LaPaglia, one of our most successful yet underrated exports, was in Empire Records. The building where this was filmed is still standing.
We're the Millers
Yeah, Wilmington was transformed into Denver, Colorado for this movie. We saw the alley where Kenny ran over to 'save Casey,' the building they lived in and the coffee shops he frequents. I re-watched the movie after learning this and kept exclaiming, "I've been there!" "I know that café!" And so on.
Blue Post Billiards
So this literal hole-in-the-wall establishment has been used in Tammy with Melissa McCarthy and Susan Sarandon and We're The Millers as the strip joint where Jennifer Aniston worked. There was also a TV crew working on a set there when we walked passed for the new show, Secret and Lies (based off the Australian show of the same name). It stars Ryan Phillippe and Juliette Lewis so I was excited to return the following day to stalk some celebrities, but the set was gone by that evening, so I guess they decided to film another scene the following day. Drats!
Iron Man 3
Another big blockbuster filmed here. Although I am yet to watch it, I was told that a big showdown happened between Robert Downey Jr and his enemy at the State Port. Spiel had the clipping to prove it.
Karen's Café
You always save the best for last. Karen's Café is empty these days as there is actually another café opened across the street (remember in the last season, coffee wars?) But nonetheless this is it, the store that went from coffee to clothes to coffee.
You may be wondering about the River Court, which was actually used in every episode except one (the black and white noir episode if you were wondering). It was demolished a few years ago but you can still look across the River Walk to where it was. Supposedly fans could buy a piece of the court off the internet. Of course.
The walking tour costs $13 and lasts for 90 minutes. It is excellent value for money when compared to similar tours elsewhere and Spiel is an absolute delight. I highly recommend it if you have any interest in the film and television industries.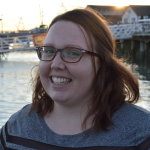 About the Author: Hayley Simpson is an uncoordinated introvert who doesn't let her social awkwardness stand in the way of her travel dreams. She left her home in Australia to live the expat life in Vancouver , Canada 18 months ago. Be inspired to escape your comfort zone through her blog, Hayley on Holiday.
The author received a complimentary Hollywood Locations Walk tour thanks to Wilmington and Beaches. All photos property of the author.