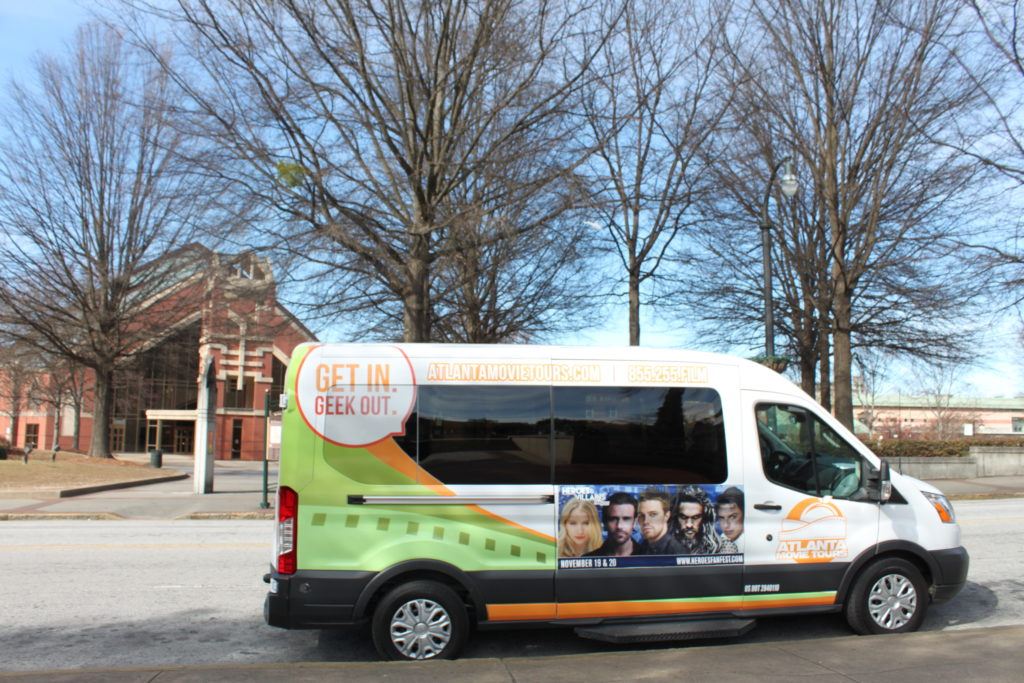 The newest addition to Atlanta Movie Tours, Inc.' lineup of tours focused on the city's notable filming locations is their Heritage Tour. It celebrates African-American television and film and interweaves it with local history. I was recently asked to hop on the tour with guides Clyde and Jimmy for an informative afternoon in a city I thought I knew well.
The tour starts at AMT's offices in Castleberry Hill, a neighborhood once known for its gambling and prostitution, now a favorite of film productions. In fact, 35 movies and television have been filmed here since the 1990s, including early projects like Driving Miss Daisy and Kalifornia before The Walking Dead, Captain America: Civil War, and The Hunger Games. The Gulch, the area beneath the now closed Nelson Street Bridge that connects to the abandoned  Norfolk Southern Building, is frequently seen on camera.
Right across the street is Fire Station #1, the city's first. Next door is now Elliott Street Deli & Pub, but it used to be Dee's Bird Cage, where Ella Fitzgerald performed. The pub was featured in Ride Along and Triple 9. Now the site of the new Mercedes-Benz Stadium, this space used to be the site of Friendship Baptist Church. And down the road is the new location of Paschal's Restaurant, an important restaurant in the Civil Rights Movement.
Crossing into Vine City, we also saw Paschal's original location, then a hotel as well, that is now sadly boarded up. Our guides told us about the Bronner Brothers Hair Show, a unique yearly event, as we passed the company's offices. The show was featured in Chris Rock's Good Hair. Also noted were Busy Bee Cafe, Hunter Street Baptist Church, and Booker T. Washington High School.
Morris Brown College, one of Atlanta's historically black colleges and universities, has been the location for films like Drumline, We Are Marshall, and Stomp the Yard. Its campus is no longer in use and is sadly covered in graffiti and boarded up windows.
Other HBCUs include Clark Atlanta University, Spelman College, Interdenominational Theological Center, and Morehouse. Morehouse College has a long legacy of successful alumni, including Martin Luther King Jr., Spike Lee, and Samuel L. Jackson. We Are Marshall also filmed on this campus, along with this year's Oscar-nominated Hidden Figures, where the school portrayed NASA.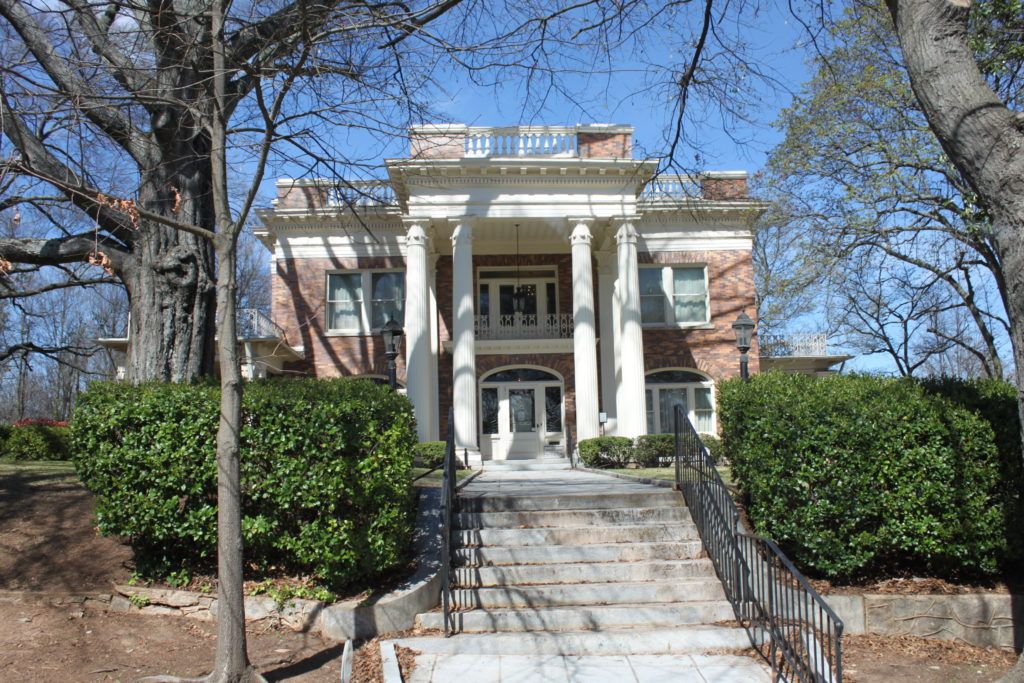 Our guides pointed out some of the notable homes in the area like those of Alfonso Herndon and Grace Hamilton, early black leaders in Atlanta. Herndon founded the Atlanta Life Insurance Company while Hamilton was an educator and executive director of the National Urban League, working tirelessly to include African Americans in local politics. You can go on tours of the Herndon Home Museum.
In the part of Vine City known as "The Bluff," the Kings had a home and Gladys Knight and the Pips went to school nearby. Next up was the Sunset Avenue Historic District, where actor Orlando Jones, of Sleepy Hollow fame, grew up. Julian Bond lived here, along with the last home Martin Luther King Jr. and his family lived in. The home is now a private residence. The story goes that after Martin died, Coretta continued living there until the house was broken into one night. Oprah heard about it and bought her a condo in Buckhead, where she lived the rest of her days.
Next, we explored the West End Historic District, an area steeped in history and Victorian homes. It was here that Joel Chandler Harris lived at The Wren's Nest. We passed the Willie A Watkins Funeral Home, which is where Real Housewife of Atlanta Phaedra Parks came for guidance in entering the funeral business. This is also the company that did Coretta Scott King's funeral. Our guides pointed out West Hunter Street Baptist Church and the McCall and Lahey houses featured on Teen Wolf.
Of course, you can't talk about African American films without mentioning Tyler Perry, who was born in New Orleans but moved to Atlanta in the 1990s. It was here that he produced his first plays, which were not successful. But he persisted and his plays began to find their audiences. It was through this success that he produced a film version of Diary of a Mad Black Woman, the screen debut of his famous Madea character. Madea, who is inspired by Perry's aunt, mother, and grandmother, has gone on to appear in eight films. In fact, the same Avon Avenue private residence has been featured in all of them. He now has his own studio at Fort McPherson as well as shows on TBS, OWN and Lifetime.
Stone Mountain native Donald Glover has also come to fame for his FX show Atlanta but previously appeared on Community and as rapper Childish Gambino. This pawn shop was featured, along with iconic local eateries Zesto and J.R. Cricket's and Gwinnett's Infinite Energy Arena, standing in for Hartsfield-Jackson Atlanta International Airport. The show has been praised for its accurate portrayal of life in Atlanta. He's next set to play Spiderman
Back downtown, our guides pointed out landmarks like the Real Housewives of Atlanta star Kandi's soon-to-open Castleberry Hill restaurant and the former FAB restaurant, now The League Tavern, where Kim's wig was notoriously pulled. The Georgia World Congress Center has played the airport many times while the Marriott Marquis was featured in The Hunger Games and Flight. Captain America: Civil War, Atlanta, and Family Feud were filmed at the Civic Center, site of Maynard Jackson's funeral.
Sweet Auburn Historic District was another important stop, known by John Wesley Dobbs as the "richest Negro street in the world" for its abundance of African American-owned businesses. Auburn Avenue's First Congregational Church educated freed slaves. On the same block is the former Daily World offices, now Condesa Coffee, and the Apex Museum. The Sweet Auburn Curb Market was the city's food market, but limited black residents to selling on the curb. Today it's a beloved food hall and market in a food desert. It was even featured in Ride Along.
The Martin Luther King Jr. National Historic Site runs alongside Sweet Auburn, honoring the neighborhood's most famous resident. King grew up here and preached with his father at Ebenezer Baptist Church, which you can still visit. The clock inside the sanctuary is still set to the time of his funeral. Neighboring Wheat Street Baptist Church was actually used for the filming of Selma about King's life. His birthplace and the Martin Luther King, Jr. Center for Nonviolent Social Change are also included in the historic site complex.
On our way back to Castleberry Hill, we passed Oakland Cemetery, where the city's most notable residents are buried, including Margaret Mitchell, Bobby Jones, and Maynard Jackson. We also passed the gold dome of the Georgia Capitol, where Coretta Scott King was given a state funeral. She was the first African-American to lie in state in the capitol.
If You Go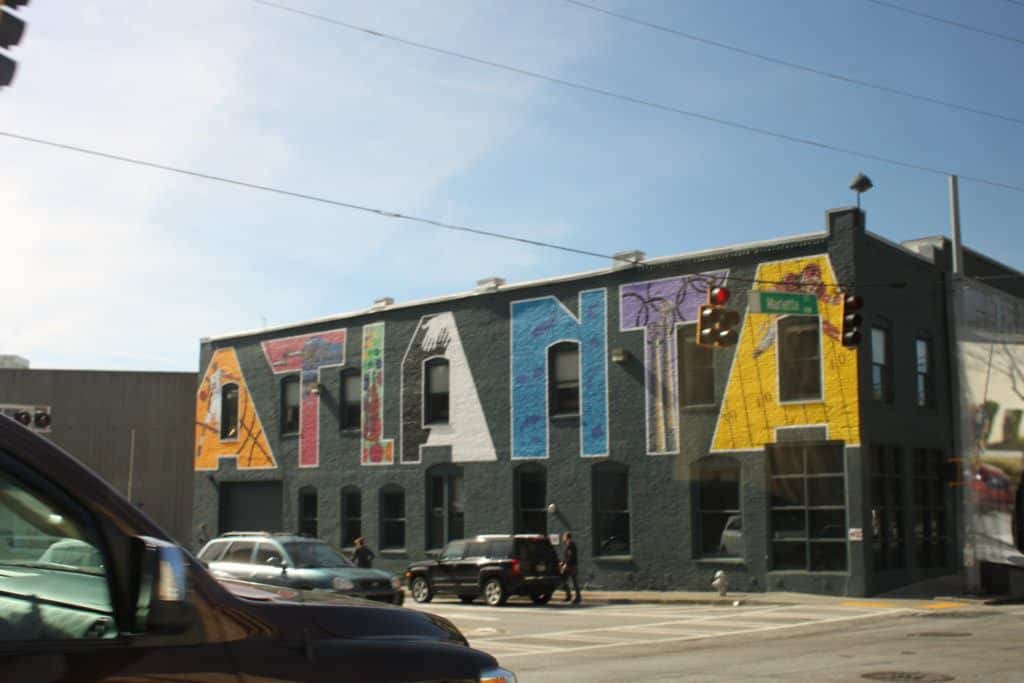 Atlanta Movie Tours' Heritage Tour is a great introduction to the city for visitors or a way to get to know neighborhoods you didn't know about for locals. Most of the tour takes place on the tour bus, but you do get off a few times for sightseeing and breaks. Bring some cash to tip your guides and purchase snacks like a juice from Arden's Garden.
The tour lasts three hours. Parking is available in the deck next to AMT's offices or on the street. Tickets cost $55 per person.
Thanks to Atlanta Movie Tours for hosting me on their Heritage Tour.