While Oregon and Colorado were once known as the nation's brewing giants, Georgia has struck out on its own in the last twenty years. Beer geeks and neophytes alike looking for tasty brews and a local experience should seek out Georgia's breweries on their visit. Unless otherwise stated, tours at each of these breweries cost $10 and include a pint glass and samples.
This is not an exhaustive list of Georgia breweries as they are constantly opening new ones!
Sweetwater Brewing Company, Atlanta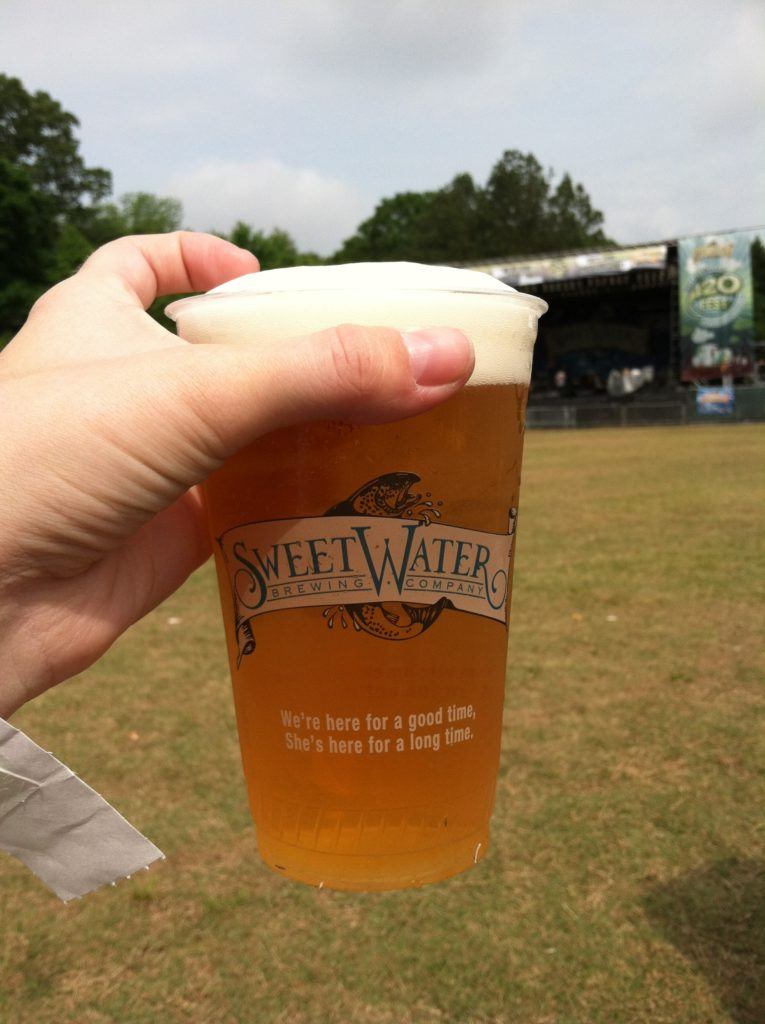 SweetWater Brewing Company was one of the first and has been the longest-lasting, first setting up shop over fifteen years ago. The brewery gets crowded with locals every Wednesday through Saturday, all enjoying 6 samples of their standard range, as well as specialty and seasonal beers. Tours run three times a day. During the summer, they have additional taps outside, as well as live music and food trucks.
Beer to Try: 420 Extra Pale Ale is the most well known, a hoppy delight for a hot Atlanta day.
Red Hare Brewing Company, Marietta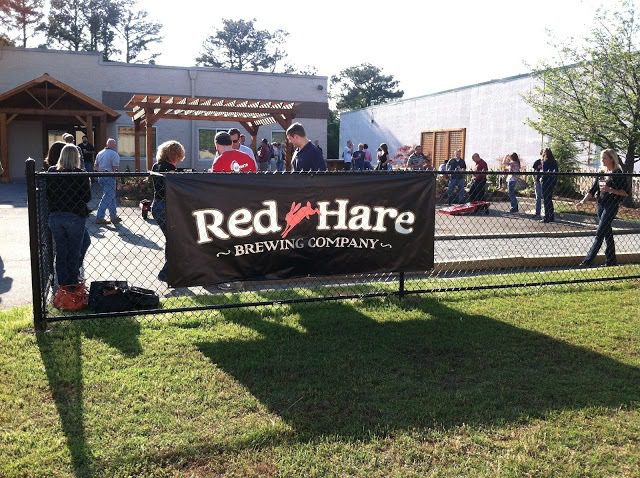 I couldn't be prouder of my local brewery, located in an industrial area of Marietta. Red Hare Brewing Company has been crafting fine brews since 2011. The brewery often hosts local music acts and has a bocce court and cornhole boards in the front.
Tours run on Thursdays, Fridays, and Saturdays. Red Hare has made Georgia history by being the first brewery in the state to sell their beers in cans. If you get a chance to sample one of their Rabbit Reserve beers, definitely go for it!
Beer to Try: Watership Brown, a hoppy brown ale that isn't too dark in taste and is ideal for darker beer newbies.
Red Brick Brewing, Atlanta
Founded in 1993, Atlanta Brewing Company is tucked away in from Howell Mill Road. It feels more like a neighborhood pub, with a weekly barbecue, trivia and live music every Wednesday through Saturday. The tasting room is open from 5-8 pm and you receive four samples.
Beer to Try: Laughing Skull Amber Ale, a beer created especially for The Vortex Bar and Grill, an Atlanta institution.
Terrapin Beer Company, Athens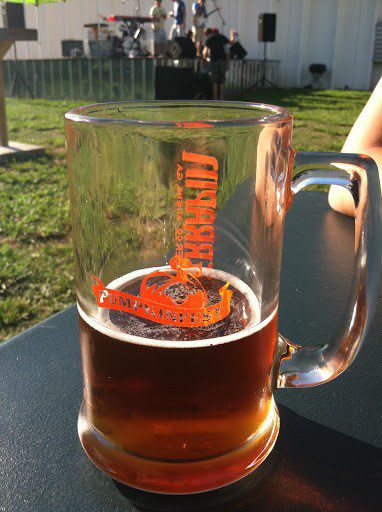 Located an hour outside of Atlanta, Terrapin Beer Company is one of the best things to do in Athens. The outdoor volleyball court and stage makes this brewery a hangout for University of Georgia students and townies.
Be sure to try any seasonal selections they have, especially the Pumpkinfest, pictured above, or the Moo Hoo. You can even get coffee roasted with their Wake n Bake beer at the local favorite coffee shop Jittery Joe's.
Beer to Try: Tree Hugger Amber Ale, which donates some proceeds to the Dogwood Alliance to protect area forests.
Monday Night Brewing, Atlanta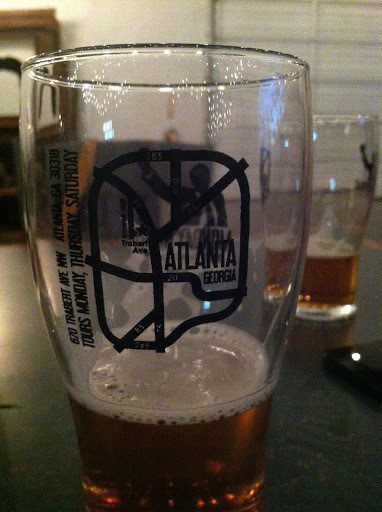 As the newest kid on the Atlanta brewing block, Monday Night Brewing has already made a name for itself. What started as a Monday night men's bible study has become a full-service brewery off Howell Mill Road with a wall for movies, shuffleboard and a fire pit.
Bartenders in ties are ready to pour you four samples of one of their three signature beers. In case you can't tell by the beer names and wall of neckties, there is a theme here. Open Mondays, Thursdays and Saturdays, you can get $1 off your tour if you bring a necktie to add to the wall!
Beer to Try: Fu Manbrew is a Belgian-style witbier that's very sippable and a good intro to Monday Night.
Creature Comforts Brewing Company, Athens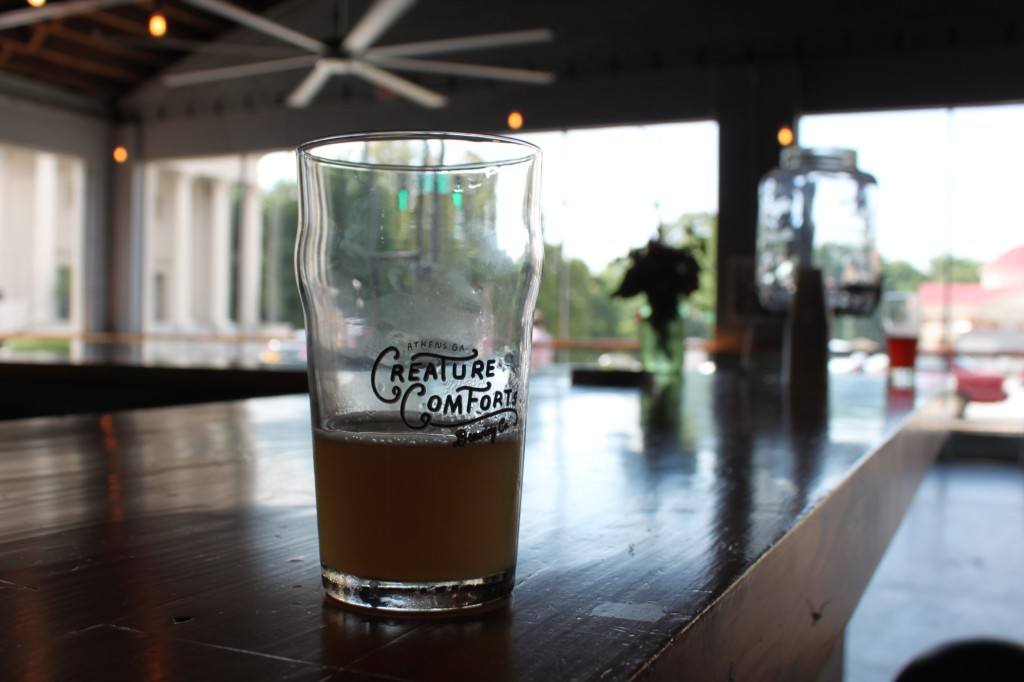 The newest brewery in Athens is Creature Comforts Brewery, located in an old tire shop downtown that has kept many of the architectural details of its former incarnation.
The brewery is open Tuesday through Saturday for tastings plus hosts a farmer's market in their parking lot every Wednesday. All of their beers are unique and differ from the standard lagers and pale ales you'll find at every other brewery.
Beer to Try: Athena is a Berliner Weisse that's not as sour as a göse, but still refreshingly tart.
Jekyll Brewing, Alpharetta
Named for the colony that first produced beer in Georgia, Jekyll Brewing is set in a business park in Alpharetta, which is a seemingly unusual location for a brewery.
But once inside, there's plenty of space to hang out and try their beers, as well as a stage where live music plays nearly every night. The fairly new brewery is a smaller operation than other Georgia breweries but has a bottling line in house.
You can also tour the brewery and learn more about how they came to be, including the Kickstarter supporters that made it happen. They're open to the public on Tuesdays through Saturdays.
Beer to Try: Cooter Brown is a smooth brown ale named for a colonist who reportedly stayed drunk for an entire year to avoid being drafted for the war.
Jailhouse Brewing Company, Hampton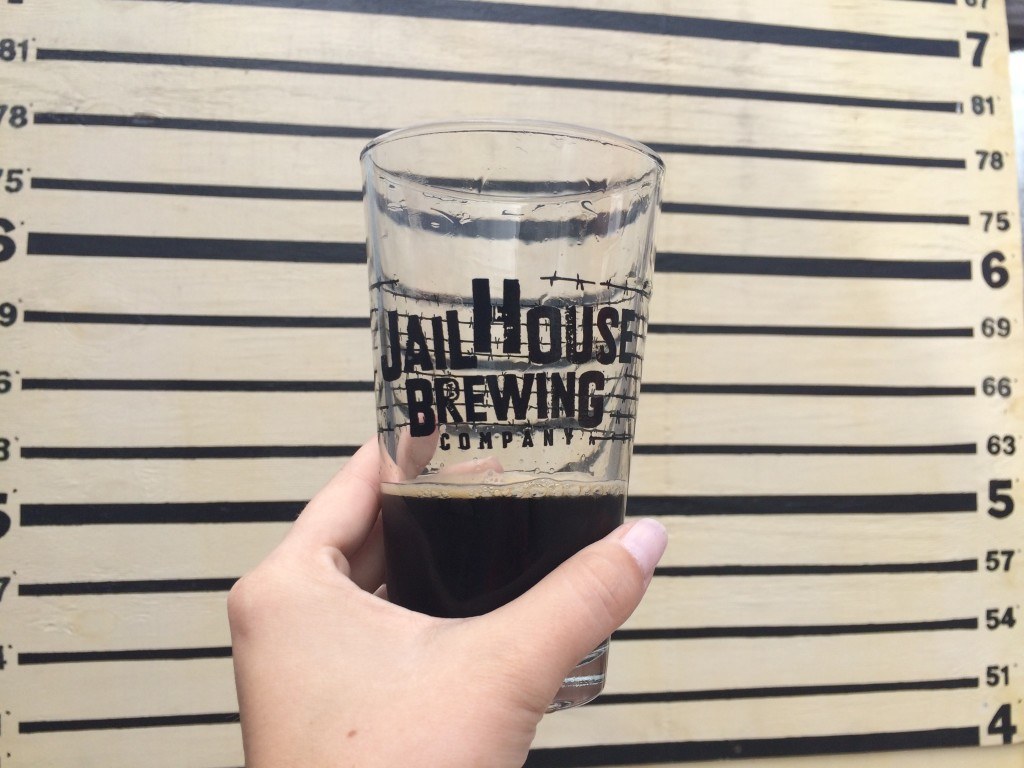 JailHouse Brewing Company is located in Hampton, almost two hours south near Atlanta Motor Speedway. Located in a historic jailhouse, the brewery names all their beers in the theme of crime and punishment. The brewery is open on Thursdays from 5:30-8 pm and Saturdays from 2-6 pm.
Beer to Try: Breakout Stout, a nod to the brewery's criminal history, is a smooth dark beer with hints of chocolate and hops.
Eagle Creek Brewing, Statesboro
Created by alumni of Georgia Southern University, Eagle Creek Brewing Company is named for a body of water nearby where the football coach would collect a sample to sprinkle on the field before a game. It's obviously popular with students and regularly hosts live music and games.
Beer to Try: While all their beers are light and drinkable, Puff's Magic Dragon Dry Stout was my favorite because it was the most unique.
Macon Beer Company, Macon
Macon Beer Company was the dream of an engineer, who put mid-Georgia's first brewery in a historic brick building. The tasting room features furniture built from pallets and barrels. Their beers are named for aspects of life in Macon, including one for the Mercer Bears. The taproom is open on Thursdays and Saturdays.
Beer to Try: Macon Progress is the flagship beer, a crisp ale with low bitterness and fruit notes.
Eventide Brewing, Atlanta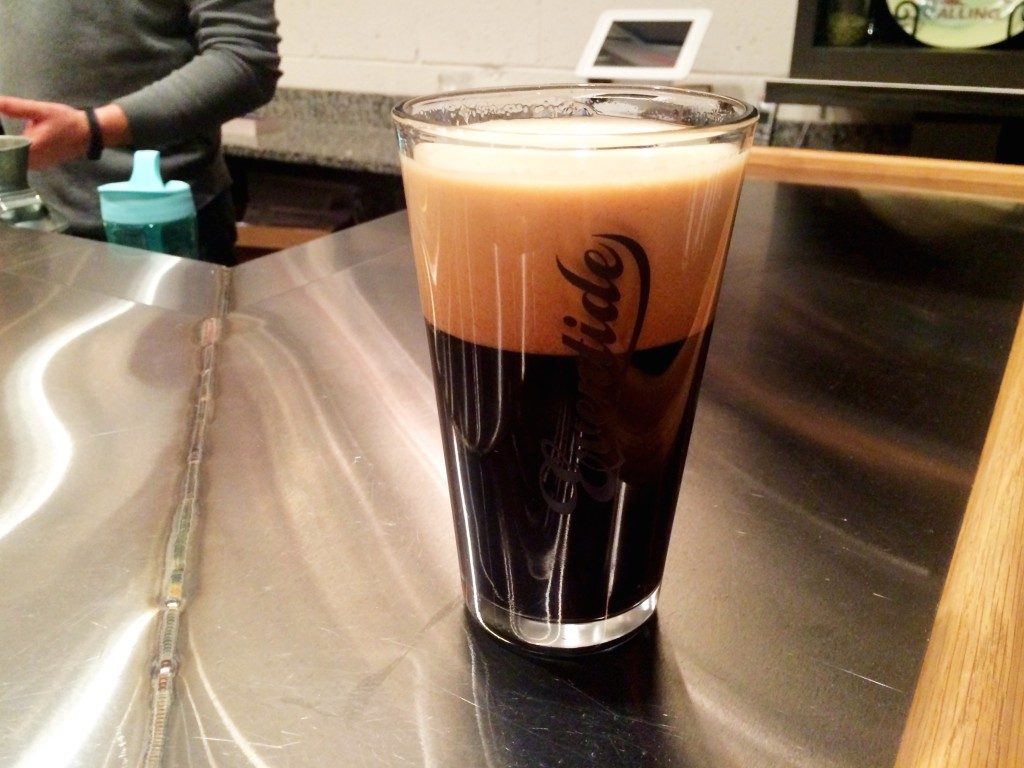 Eventide Brewing is a humble brewery in the Grant Park neighborhood, a short walk from Zoo Atlanta. Founded by a group of friends at Georgia Southern University, the brewery is open for tours and tastings Thursdays through Sundays. It only costs $12 for six samples, a tour, and a souvenir pint glass. They also have regular events like tap takeovers and live music.
Beer to Try: Dry Irish Stout isn't overly heavy, despite what the dark color might make you think.
Second Self Beer Company, Atlanta
Second Self Beer Company is a newer Atlanta brewery on the Westside. Their newly opened taproom is home to not only their standard beers but also unique kegs. In addition to tours and tastings, you can also come by for their weekly comedy nights and yoga. Samples and souvenir pint glasses cost $12.
Beer to Try: Maverick & Gose is my favorite tart summer beer, but I'm a fan of the Thai Wheat as well.
Arches Brewing, Hapeville
Atlanta is full of breweries, but the suburb south of the city is a true neighborhood hangout. Located near the main square, the back courtyard at Arches Brewing has cozy fire pits. The brewers started as home brewers before making the leap to full service. They're open for tours and events four days a week.
Beer to Try: Unseasonal Lager is an all season brew with mild hops.
Printer's Ale, Carrollton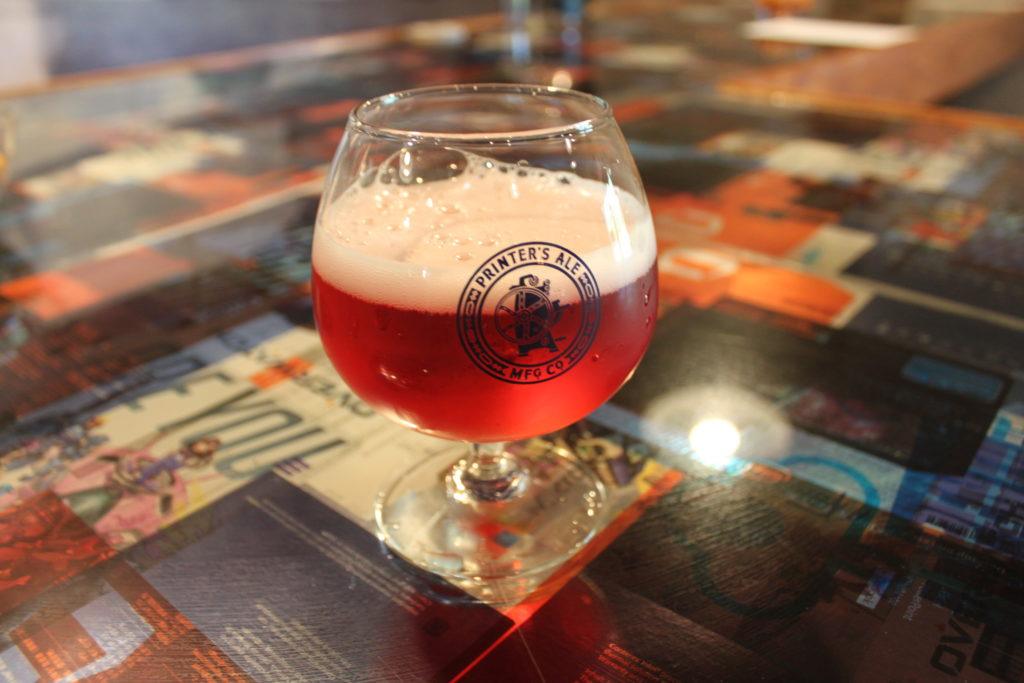 Every college town needs a brewery and Printer's Ale Manufacturing Co. is Carrollton's. Named for the printing shop that shares the building, the lineup of brews is named after elements of the industry like CYMK colors. The brewery has indoor and outdoor spaces to hang out as well as tours of the facility.
Beer to Try: Gutenberg's Gose is made with hibiscus and lime for a delicious tartness.
See the Georgia Craft Breweries Guild to see up-and-coming breweries. Atlanta Brews Cruise runs tours between many of the breweries. The Peach State Ale Trail is a program that provides access to all the state's breweries for a fee.