Whether you're attending a national championship game, the Peach Bowl, or just a regular season Atlanta Falcons game, there's no shortage of football-related events in the city throughout the year. All events take place at the new Mercedes-Benz Stadium, so this guide will be centered around places you can visit nearby. Skip the overpriced parking lots surrounding downtown and instead opt for public transportation at the Vine City, Georgia World Congress Center, or Peachtree Center MARTA Stations.
What to See and Do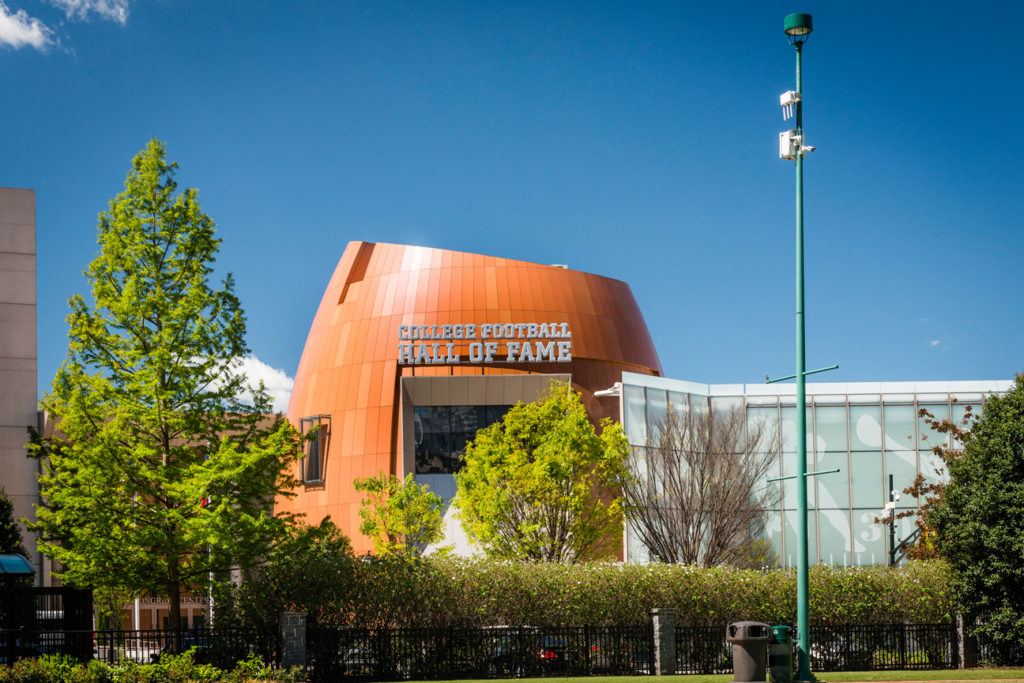 Other than the Big Game, you'll probably want to see a few Atlanta attractions during your stay. Most are set near the stadium, so they're easy to visit. Don't be afraid to venture out to nearby attractions as well.
SkyView Atlanta– See downtown from this modern Ferris wheel with heated and air conditioned glass pods that offer 360 degree views. Upgrade to the VIP pod for longer flight times.
Georgia Aquarium– Get lost in the world's largest aquarium, which has species from home and abroad, including whale sharks, sea otters, and beluga whales. You can even go diving in the tank!
College Football Hall of Fame– If you're here for football, don't miss this fan experience that starts as soon as you enter. Choose your team and enjoy interactive games and activities that save to your scorecard.
Center for Civil and Human Rights– Atlanta played a significant role in the Civil Rights Movement and this museum features exhibits from that time period as well as modern struggles for equality around the world.
CNN Studio Tour– Get an inside look at where the 24-hour news cycle got its start on the behind the scenes tour. You might even see live taping of shows like Robin Meade's Morning Express or election coverage.
Martin Luther King Jr. National Historic Site– In nearby Sweet Auburn, which you can access from downtown via the Atlanta Streetcar, visit the birthplace and tomb of Martin Luther King Jr. His church is also included within the site.
Atlanta Food Walks– Get a quick introduction into Southern cuisine and Atlanta history with the Downtown food tour. You'll sample dishes at restaurants like the place where civil rights icons planned marches and a historic market turned food hall.
Atlanta Movie Tours– Visit the filming locations of your favorite movies and television shows, run by this Castleberry Hill-based company. They offer tours around Gone with the Wind, The Hunger Games, The Walking Dead, and the Marvel films.
Street art– Downtown has excellent street art and murals. Don't miss the "Atlanta" mural on Luckie Street, the colorful Ernest Zacharevic piece, and the multiple walls on Broad Street.
Where to Eat
There's more to the city than stadium food, although Mercedes Benz has the best options in the country. But beyond that, there are a few nearby neighborhoods where visitors can find plenty of dining options. On the downtown of the stadium is the Luckie Marietta district, named for the two cross streets. There are plenty of sports bars and this is where you'll find many of the paid parking lots and decks. The food courts at the CNN Center and Peachtree Center provide big-name chains like Chick-fil-a, Taco Mac, and the like as well as Aviva by Kameel, a personal favorite. Broad Street has a number of international options. Nearby neighborhoods Castleberry Hill and Edgewood are also good for dining out.
Der Biergarten– Get a taste of Germany at this beer hall, which has a menu of authentic beers and dishes like bratwursts, spaetzle, and goulash. It's a good alternative to the crowded sports bars that surround it.
NaanStop– This affordable fast-casual Indian spot is a favorite of Georgia State students. Fill up on a rice bowl with chicken curry before you start tailgating.
Dua Vietnamese Noodle Soup– Warm up with a heaping bowl of pho at this Broad Street restaurant. You can also order it online to pick up if you're in a hurry.
Hsu's At Peachtree Center– Get a taste of something different from this longtime downtown Chinese restaurant. Try the dumplings!
Tin Lizzy's Cantina– Another casual option is this local Mexican chain that serves tacos, bowls, and tasty margaritas.
Atlanta Breakfast Club– Start your day off right with a full breakfast, including chicken and waffles, shrimp and grits, and breakfast sandwiches.
The Varsity– While it's not within walking distance of the stadium, The Varsity is the original pre-game lunch spot, feeding generations of sports fans with their hot dogs and chili burgers.
Paschal's Restaurant– This Castleberry Hill restaurant is a short walk from the stadium and has the best fried chicken in town. It's also where Civil Rights leaders planned marches and demonstrations.
Noni's Bar & Deli– In the hipster area of Edgewood Avenue, Noni's serves excellent Italian food and sandwiches, but turns into a dance spot at night.
Sweet Auburn Curb Market– Choose from burgers, arepas, pies, and much more at this historic market-turned-modern food hall.
No Mas! Hacienda & Cantina– Visit the sprawling Mexican restaurant that has been a flagship within the neighborhood, complete with a store and coffee shop.
Where to Stay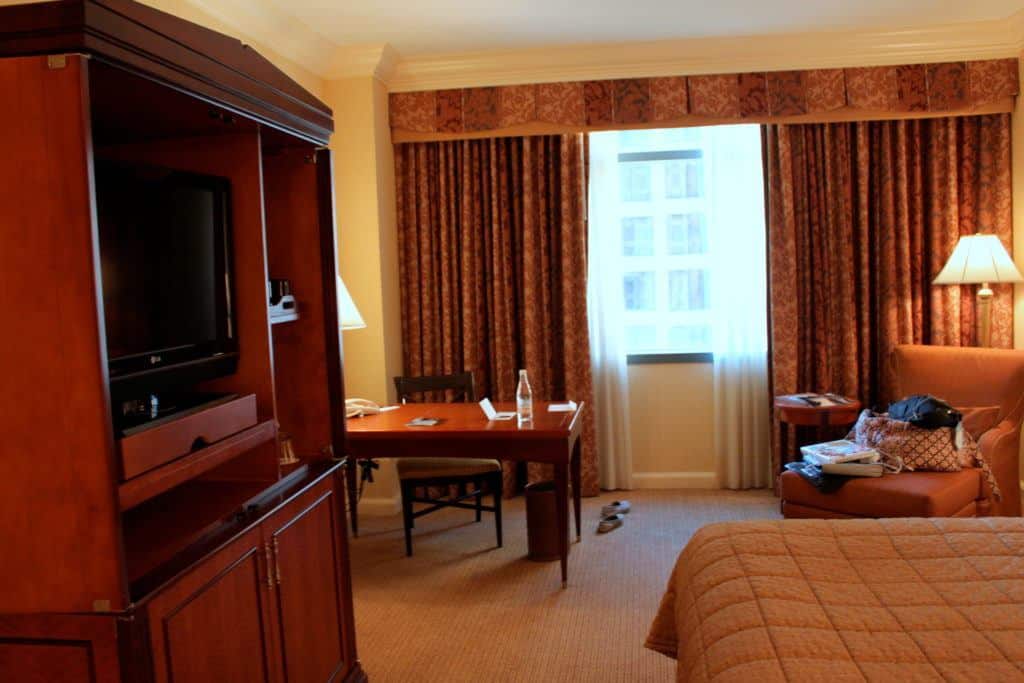 If it's a major game, you can count on the closest hotels to be fully booked, namely the Omni Hotel at CNN Center. But the downtown area has plenty of accommodation options to choose from if you book early enough. Don't rule out nearby neighborhoods, like Midtown and Buckhead, which can save you money.
The American Hotel Atlanta Downtown – a DoubleTree by Hilton– This newly rebranded hotel has been brought back to the days of its opening with midcentury modern furnishings. It was the city's first desegregated hotel and played a role in the arrival of the Braves.
Aloft Atlanta Downtown– The cheaper cousin of the W, the stylish hotel is the only one of its kind downtown. It's a short walk down to Centennial Olympic Park and the stadium beyond.
Marriott– An icon designed by John Portman, the Marriott Marquis has plenty of rooms with all the modern amenities.
Airbnb– If you're lucky, you and your crew can snag a rental at an apartment near downtown in Castleberry Hill or Sweet Auburn.
Enjoy your gameday and weekend in Atlanta, Georgia!
PIN IT
This post contains affiliate links.