If you're planning a trip to Universal Orlando Resort, the first thing you should book is a place to stay. While you'll certainly find cheaper hotels nearby, there are so many great benefits to staying onsite. First, you get early access into the parks. The rides don't necessarily open early, but this is what has allowed me to be in line as soon as some of the Harry Potter rides opened. Some of the hotels also give you express passes to go to the shorter lines. These hotels also have unrivaled access to the parks, accessible via paved walking trail or complimentary transportation via buses and boats. Souvenir purchases can be transferred to your room without lugging them around the parks all day. And you can also receive the perks from being under the Loews brand. They span over 5,600 rooms and range from $100-350 USD per night, so there's something for every budget. Which property is right for you?
Universal's Cabana Bay Beach Resort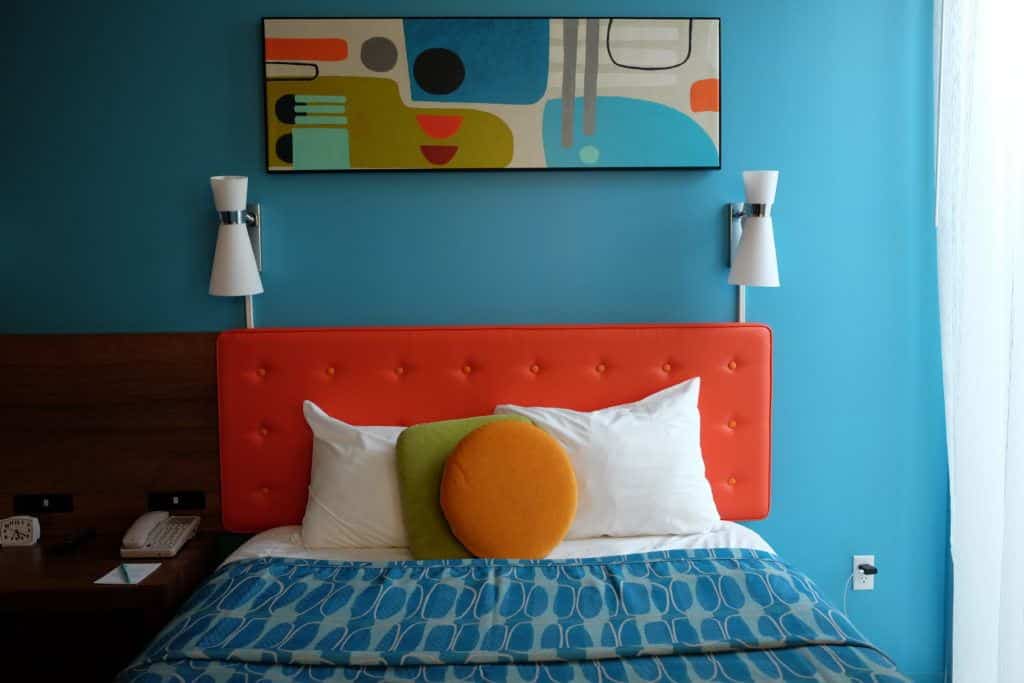 Step into yesteryear at Universal's Cabana Bay Beach Resort, one of the most colorful Universal properties. The over 2,000 poolside or standard guest rooms can sleep up to four with flat screen televisions, coffee makers, and mini fridges. Toiletries like V05 and midcentury-style furnishings add to the vintage appeal. Cabana Bay has multiple dining options including pizza that you can enjoy poolside or in your room. Kids will love the arcade and bowling alley. Your stay includes early park entry and transportation to the park via bus.
Mood: 1950s Americana
Perfect For: Young Families
Loews Sapphire Falls Resort
For a taste of the Caribbean, Loews Sapphire Falls Resort is a great option for mid-range budgets. Built in 2016, the 1,000 rooms come with standard amenities like in-room coffee makers and flat-screen televisions. Nautical family suites are one of the options. There is a sprawling pool complex, the largest in the resort, and a number of in-house eateries. Amistata Cookhouse serves Caribbean-inspired fare and New Dutch Trading offers coffee and light bites. Strong Water Tavern specializes in top shelf rums and cocktails. There are also weekly dinner shows and Despicable Me character breakfasts. Your stay includes early park admission.
Mood: Caribbean vacation
Perfect For: Girlfriend Getaways
Loews Portofino Bay Hotel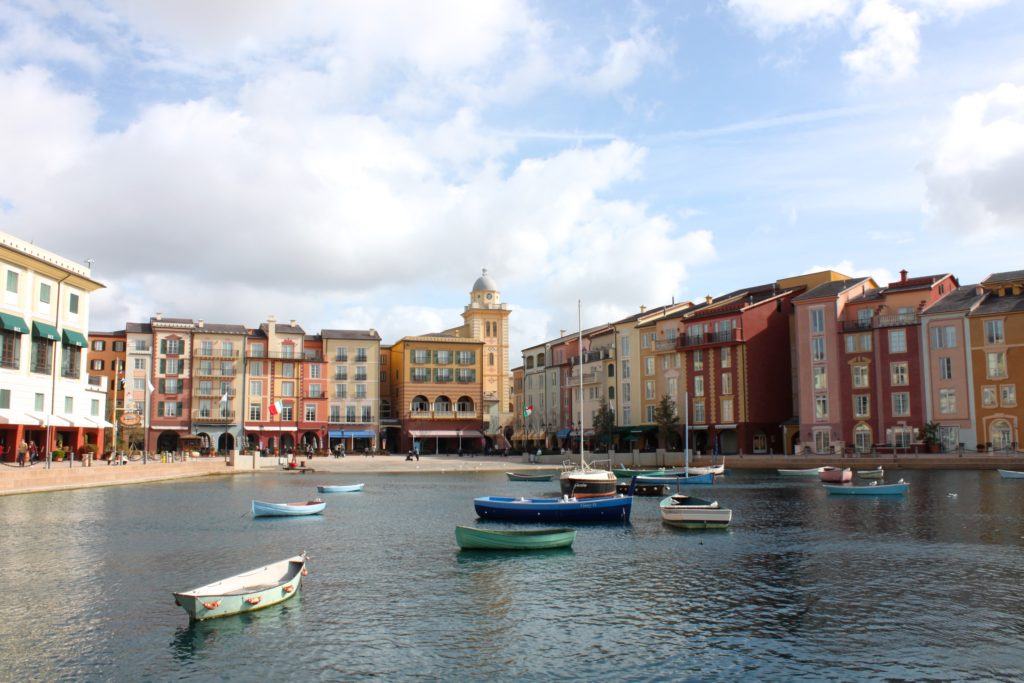 The colorful buildings and the open piazza at the Loews Portofino Bay gives you "la dolce vita" without crossing the Atlantic. Accessible to the parks by boat, this is the top-tier hotel at Universal. There are three different room types that include coffee makers, televisions, and bathtubs, with 750 rooms in total. Three pools and a spa are also a part of the property as well as nine restaurants. Mama Della's is as authentic as it gets and Bar Americano is where you can get your Aperol spritz fix. There's also a Starbucks, casual deli, gelateria, and Thirsty Fish, a casual bar and restaurant. Early entry and express passes are included.
Mood: Italian Riviera
Perfect For: Couples
Loews Royal Pacific Resort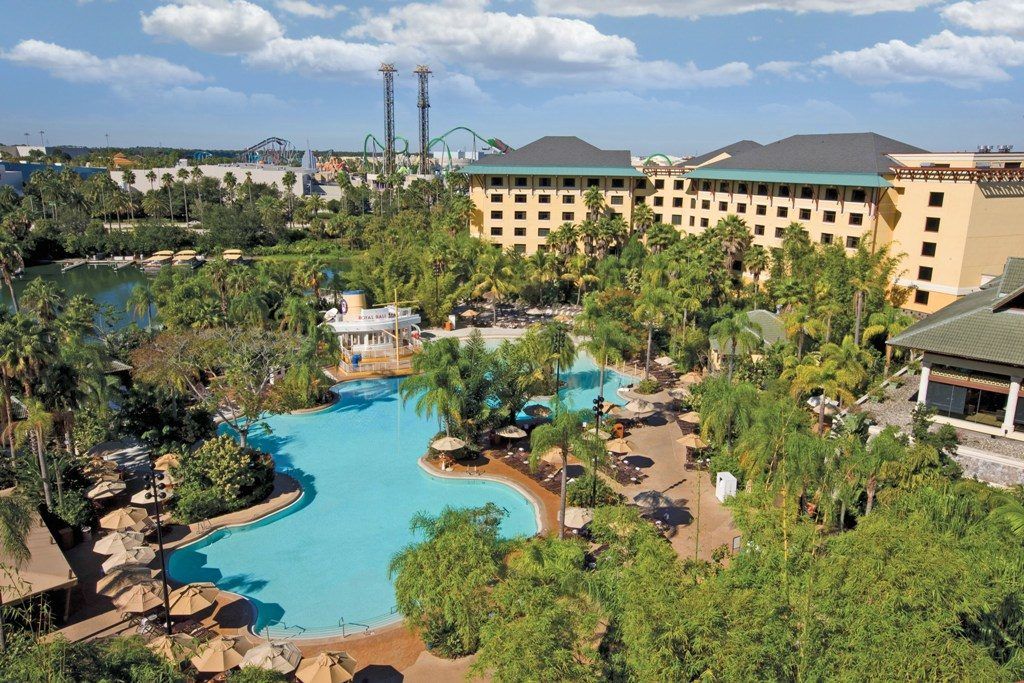 Hailing back to the Golden Age of Travel, the Loews Royal Pacific Resort boasts 1,000 rooms and suites at mid-tier prices. Themed rooms are available for families. The hotel also boasts five restaurants, including a sushi bar, and lounges and a pool where you can spend the afternoon relaxing. There's also the unique luau show where you can learn the hula. Groups can take advantage of conference rooms and all guests get both express passes and early entry.
Mood: Pacific without the price tag
Perfect For: Older Families
Hard Rock Hotel Orlando
Built in 2001, Hard Rock Hotel is where the party is at. The name is licensed from the world renowned brand and appeals to music lovers. The mission-style design is actually inspired by The Eagles' Hotel California. It has that offer themes for families and in-room yoga for those trying to stay fit. The entire property is decked out in rock memorabilia and the hotel even hosts monthly Velvet Sessions concerts. Enjoy tunes in the pool's underwater sound system or grab a meal at their restaurants, including The Palm Steakhouse.
Mood: California mission
Perfect For: Multi-generational groups
Universal's Aventura Hotel
The newest addition to the Universal hotels portfolio will open this fall next to Cabana Bay and Volcano Bay. It will be on the budget-end of prices and has skyscraper-type views of the entire park. The 600 rooms will be modernly furnished and will have a boutique feel. Aventura will also have a pool, dining hall, and a rooftop bar.
Mood: Futuristic and swanky
Perfect For: City slickers
And two more coming soon!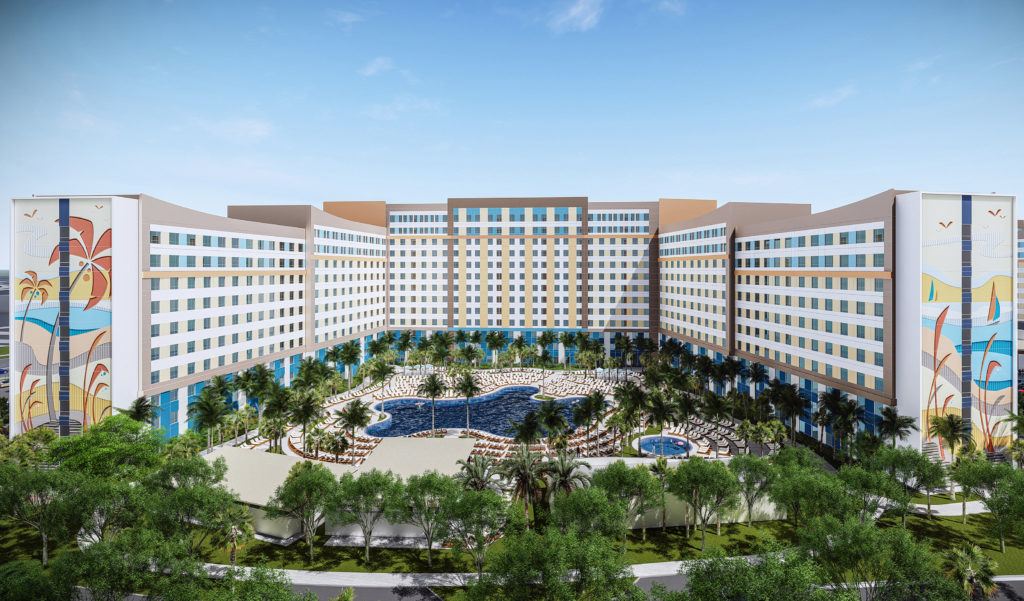 If that wasn't enough, two more hotels will open in 2019 on the former site of the Wet and Wild Theme Park. They'll add another thousand or so rooms to the portfolio and will be on the budget end of prices. You'll soon have plenty of options when it comes to staying at Universal Orlando Resort!
Have you stayed at any of these Universal Orlando properties?
Aventura, Hard Rock, and Royal Pacific images courtesy of Universal Orlando Resort. Some of my stays were hosted through my partnership with Universal Orlando Resort Blog Squad.