Nashville, Tennessee is known more for music than art. But that is changing, especially in the up and coming neighborhoods. Murals have been commissioned to beautify areas and encourage the sharing of images on social media.
Some were done by companies, while others were created through the Nashville Walls Project, with both local and national artists being featured. Many murals have the name of the artist and a hashtag to share images of it. Camels & Chocolate has a great post about Nashville's best murals, including ones we didn't feature in Marathon Village and Sylvan Park.
This post contains affiliate links that earn income through purchases but don't charge you an added fee.
Music Row and Downtown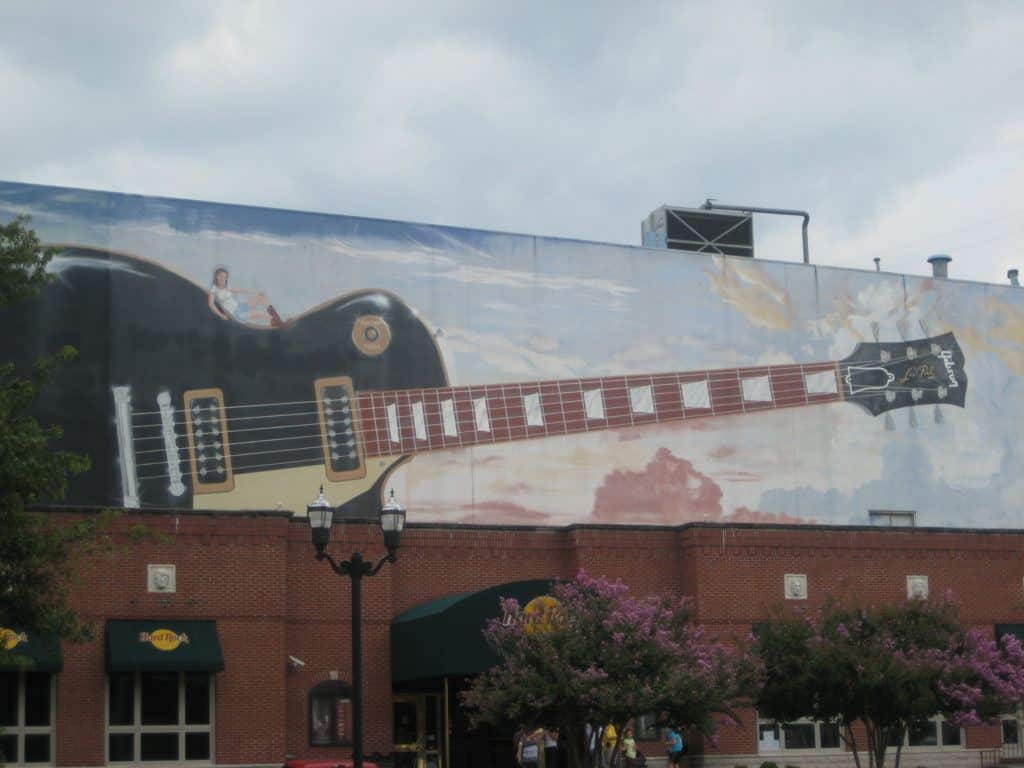 When it comes to street art in Music Row and Downtown, there aren't many to see in the tourist zone. But there are a few exceptions. One might not call the massive guitar above the Hard Rock Cafe "street art," but it's a mural that has survived the city's boom in development.
The upper left piece at 236 5th Avenue is by Niels 'Shoe' Meulman, who is known for its "calligraffiti." It wraps around both sides of the building and is taken from Johnny Cash lyrics.
The portrait in the middle is by Rone and is at 530 Church Street. I'm not sure of the artists who created the pieces to the right, but they were near the Shoe piece.
The Gulch
If you only go to one neighborhood in Nashville in search of street art, make it The Gulch. There's almost always a crowd at the "What Lifts You" wall by Kelsey Montague, tucked next to a parking garage by Biscuit Love.
Near Barista Parlor, check out the colorful geometric wall by Nathan Brown. The Nashville Walls Project commissioned the center piece, at 11th Avenue and Laurel Street, by Ian Ross and Jason Woodside. And others were commissioned by Google Fiber, including the piece to the right by Chris Zidek.
Hillsboro Village and 12 South
Hillsboro Village is a student-friendly area that doesn't have much street art apart from the iconic Hillsboro dragon, located across the street from the Belcourt Theatre. Painted by David Glick and Adam Randolph, you can't miss it while walking through the neighborhood.
Neighboring 12 South is another favorite for its abundance of art. The most famous is I Believe in Nashville, a series by Adrien Saporiti that has a few locations around town. While not a mural per se, the stripes at Draper James are a popular spot for photos.
Eastside Murals' Nashville at Heart on 12th Avenue is a colorful representation of the Music City. And a piece entitled "Make Music Not War" sums up the attitude of the city, located on the side of Epice and painted by Relax Max.
East Nashville
Of course, the trendy neighborhood of East Nashville also has murals and street art to see. The one above was previously the most photographed, a Nathaniel Allen piece dating back to 2002 that was recently replaced.
The DCXV Industries Nashville mural at Center 615 is now the favorite, called "Stay Tuned." The Octopus on Gallatin Avenue is another as well as the East Nashville sign on the Joyner and Hogan building.
Louis Masai portrays the western flying squirrel in his piece on the side of Hot Yoga East Nashville. Eastside Murals and Leah Tumerman have a number of pieces in East Nashville, including one next to Bongo Java.
The Rest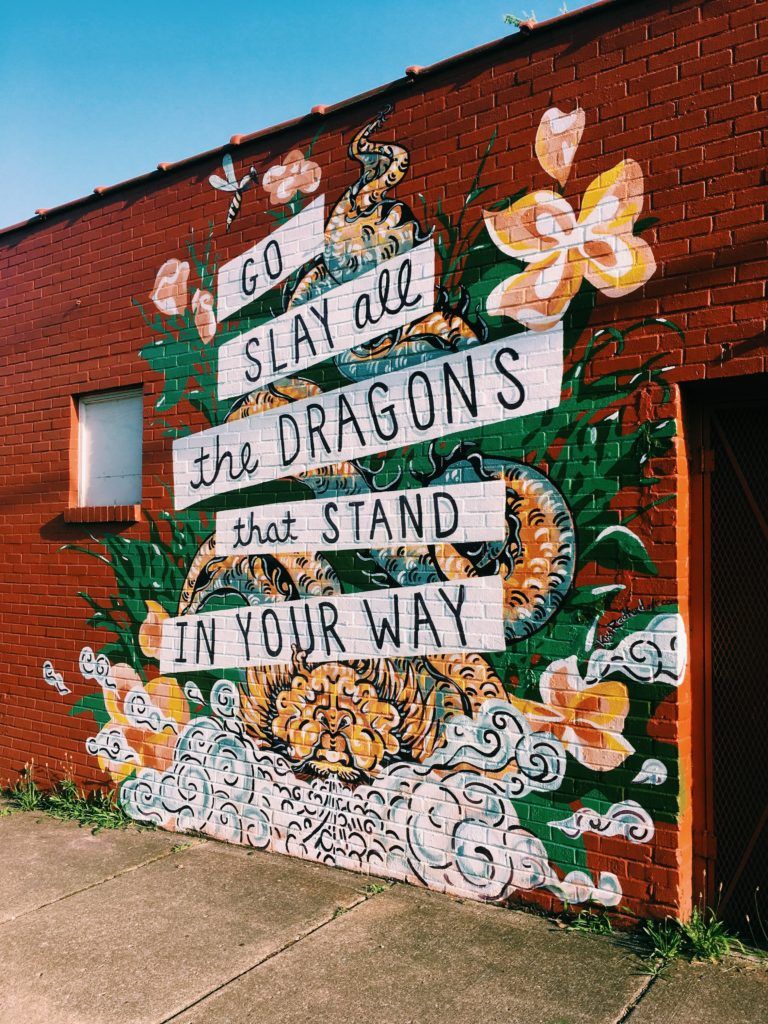 Musician Drew Holcomb, a longtime East Nashville resident, commissioned a mural in the Cleveland Park neighborhood. It's located at 1224 Meridian Street and was painted by local artist Kim Radford.
Looking for even more street art? Book a spot on the Mural Art Tour of Nashville by Golf Cart.
Book your stay in Nashville with our preferred partner.