There was a time when the robber barons and oil tycoons from the North would own a second home down South to spend half of the year. It was America's Gilded Age and the homes have the opulence to match the time period. The land was plenty and the weather was mild for these "snowbirds." Since that time, everyone from presidents to rock stars has settled here. We're not talking about plantations, but these lavish residences are in a league all their own. Since most of these homes are still privately owned, photos are not allowed inside, unless otherwise specified.
Biltmore Estate, Asheville, North Carolina
Built in 1889 by George Washington Vanderbilt II, the 250-room estate has become one of North Carolina's most visited tourist attractions, complete with ahead-of-its-time features like an indoor swimming pool and bowling alley. The gardens were designed by Frederick Law Olmsted of Central Park fame. Biltmore Estate holds the title of the largest home in America.
See also: Visiting Asheville's Biltmore Estate
Hay House, Macon, Georgia
Featured on the A&E show "America's Castles," Macon's Hay House is even more stunning on the inside than on the outside. Built in 1855 in the Italian Renaissance Revival style, the 18,000 square-foot mansion has custom made sliding doors, glasswork and a unique cupola. The family lived here until 1962, at which point the Georgia Trust Foundation took over.
See also: Weekend Guide to Macon
The Swan House, Atlanta, Georgia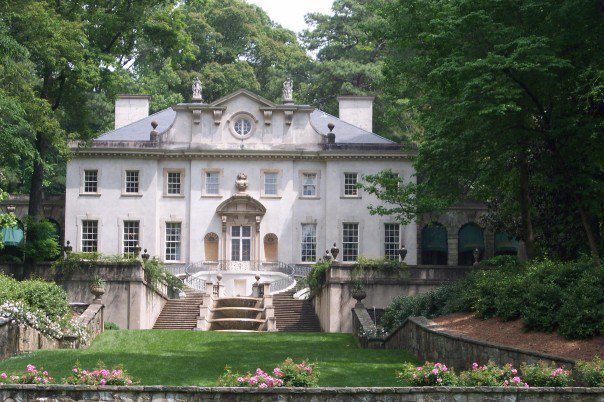 The Swan House is one of Atlanta's most recognizable landmarks, not to mention a popular spot for weddings. The Inman family, heirs to a cotton fortune, called it home in the 1920s and 30s. As a part of the Atlanta History Center, you can see the many rooms of the home as well as the gardens. A ticket for the Atlanta History Center allows you to tour the museum, the Swan House, the Smith Family Farm, the Centennial Olympic Museum and the Margaret Mitchell House.
See also: Visiting the Atlanta History Center
Villa Vizcaya, Miami, Florida
James Deering, vice president of International Harvester, chose this location outside of Miami for his dream home. Built from 1910 to 1922, the construction of Vizcaya Museum and Gardens employed most of the area's residents at that time. It was built and decorated to resemble an old Italian villa. The gardens, which once consisted of 180 acres, are still the highlight of any visit to the mansion.
See also: Visiting Villa Vizcaya
Other Mansions to Explore
Graceland Mansion, Memphis, Tennessee– Elvis Presley bought this plantation-style home in Memphis, where he until his death.
Ca d'Zan, Sarasota, Florida– John Ringling of circus fame lived in this elaborate 56-room Venetian style mansion.