The holiday season is upon us and we've put together three of our favorite items for the person from every Southern state. Most of these are handcrafted items that really represent the place, supporting all the small businesses.
All items are under $200 USD. Images belong to the individual sellers.
This post contains affiliate links that earn income through purchases but don't charge you an added fee.
Arkansas
Akashic Arkansas Crystal Gold Wired Pendants, $28
These one-of-a-kind crystals are taken from the Gem State and have Akashic lines, also known as Lemuriann lines. Wear for fashion or experience the rumored healing energy.
Arkansas "The Natural State" License Plate Birdhouse, $19.95
Made with license plates from the state, this birdhouse is ideal for small birds. License plate unscrews for cleaning.
Torched Wood Arkansas Wall Art, $25
This wooden wall art comes in the shape of the state of Arkansas with stunning wood grain detail. You can even have a heart placed on your chosen town.
Alabama
State of Alabama Typography Print, $10.95
The original work was drawn by hand in archival Pigma ink – no computer generation here! Each piece features words representative of that state, carefully drawn to create negative space that serves as the outline for that state.
Alabama Keychain Bottle Opener, $9.60
These laser cut 14 gauge steel bottle opener keychains are designed to be a durable, utilitarian accessory, the perfect stocking stuffer.
Handmade in a village in Honduras, these handwoven bracelets feature different threads based on tastes and an outline of the state.
Florida
Vintage Florida Illustrated Map, $14.50
Remember the old days of Florida with this antique map that has been lovingly restored from a 1912 schoolbook.
Florida Botanical Embroidery, $20
These hand-embroidered hoops feature the outlines of the state of Florida with greenery inside, ideal for hanging.
Homeland Tees Florida Flag Hat, $23.95
Show off your pride in your home state with the Original Homeland Tees Flag Hat.
Georgia
Georgia Crewneck Sweatshirt, $26
You don't have to pick a team, just pick the whole state. These comfy sweatshirts are suitable for all sizes and styles.
This hand-poured soy candle smells like home, no matter where you are with notes of peach, oak, magnolia, and Cherokee rose.
North Georgia Moonshine, $28.99
Is one of your loved ones fascinated by the history of white lightning and the people that made it? Enjoy this book about the Lovell family and others that ran liquor during Prohibition.
Kentucky
A 3 inch round glass ornament made from authentic Makers Mark bottle labels and wax taken directly from the bottle. Each ornament is handmade and one of a kind.
Kentucky Quarter Cufflinks, $34
This pair of cufflinks are made with a pair of real coin quarter of dollar state Kentucky. The coins are painted by hand.
Make a statement at one of the horse races, or even a special Sunday, with these custom made hats.
Louisiana
Louisiana Throw Pillow Cover, $22.50
Personalize your decor with a state map throw pillow cover in your choice of color. It can also be customized with a heart, coordinates, family name, etc.
Louisiana Calling Shirt, $24.95
The soft unisex jersey shirt is for lovers of Louisiana, featuring the state bird, the pelican.
The silver plated chain necklace comes with an antiqued silver boiling pot, a red enamel crawfish charm, and a freshwater pearl.
Mississippi
Mississippi State Flask, $29.50
Enjoy the uncompromising stainless steel and a rugged screw top to endure countless outdoor adventures.
This mug is a medium height and tapered to hold in heat and prevent spills. Defined throwlines give it texture and a flared lip allows for easy sipping.
Faulkner Mississippi Illustration Print, $16.25
This lovely 8×10 art print features the quote by famous Mississippi writer William Faulkner, hand-drawn with pen and ink.
North Carolina
Upcycled North Carolina License Plate Ornament, $15
Made from a North Carolina state license plate, this North Carolina shaped ornament will look great on any holiday tree no matter what the theme!
North Carolina State Map Illustration Wall Art, $13.50
Show off your North Carolina love with this hand-illustrated map art print, printed on paper or canvas.
Homeland Tees North Carolina Home Long Sleeve Shirt, $25
Show off your pride in your home state with this custom-designed long-sleeved shirt. Each item is printed by hand in North Carolina using the highest quality materials available.
South Carolina
Vintage South Carolina Canvas Print, $15
Show your state pride with this high-quality canvas print of the South Carolina flag, with its palmetto and moon.
South Carolina Tea Towel, $16.80
This tea towel features the work of Louise Neumann, showing off some of the state's most defining features.
Geechie Boy Mill White Grits, $13.99
This Edisto Island-based mill crafts the most beloved stone ground grits used by home cooks and restaurants around the country. They're made without preservatives or chemicals.
Tennessee
Tennessee Embroidered Pillow, $45
These hand-embroidered cotton pillows feature a map with the state bird and local legends like Davy Crockett.
Tennessee TriStar Etched Scotch Glass, $16.20
This glass etched with the icon featured on the state flag is perfect for the home bar.
Reclaimed Jack Daniels Barrel, varies
Every whiskey fan needs their own Jack Daniels barrel at home. These are ones taken from the Lynchburg distillery.
Virginia
Perfect for individuals who love state map jewelry but may want something a bit more subtle than the state silhouette necklaces.
Virginia Flag Patch Trucker Hat, $24.95
The Virginia Flag Hat has a Salt-Wash™ to create a weathered, heavily sun-bleached look.
Espresso Coffee Chocolate Bark, $12
Indulge your sweet tooth with espresso infused dark chocolate layered with white chocolate then sprinkled with more espresso and a dash of cinnamon, made in Alexandria.
And one more!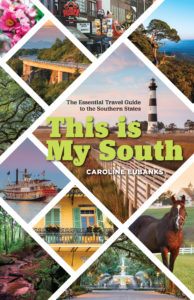 This Is My South: The Essential Travel Guide to the Southern States, $15
Don't forget about our book about the South, which you can pick up on Amazon and in-stores including at Barnes & Noble and Books-A-Million, as well as some independent stores.
What's on your list?