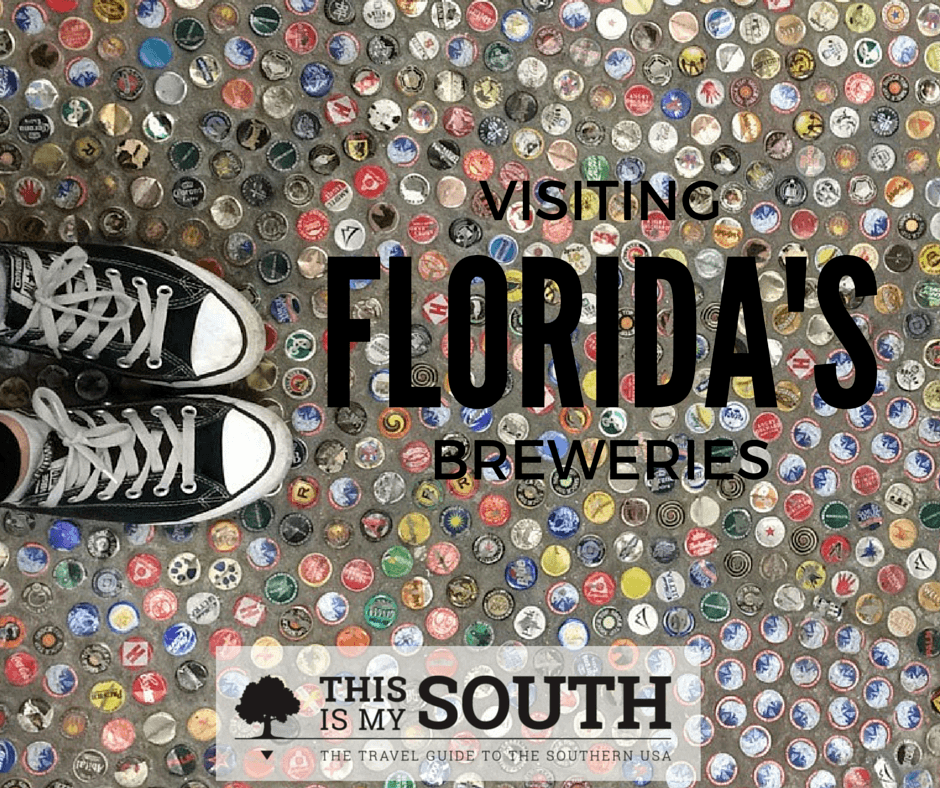 A decade ago, all you would find to drink in Florida were the big name beers. But today, nearly every corner has craft beer, whether that be a small brewpub or a large scale distribution operation. And unlike in other states, you can legally purchase beer to go directly from the brewery. While we haven't yet been to all of Florida's breweries, they're on our list! Here are just a few that we can recommend from experience.
Miami Brewing Company, Florida City
Miami Brewing Company is located on the edge of the Everglades outside of Miami. The brewery is actually located in the tasting room of Schnebly, a winery by the same owner, so you can sample and purchase both in one visit. They also host live music and other regular events.
As Miami's first production craft brewery, Miami Brewing is inspired by the tropical flavors found in South Florida and the Caribbean. You can purchase both pints and flights of multiple beers including their mango wheat, brown ale, and seasonal milk stout. The tasting room is open Fridays, Saturdays, and Sundays from 12 pm.
Beer to Try: Big Rod Coconut Blonde Ale is light and drinkable without being too flavorful of coconut.
Cigar City Brewing, Tampa
Cigar City Brewing is perhaps Florida's best craft beer success story. Based in Tampa, the brewery is named for the city's history as the former cigar capital of the world.
The brewery offers tours, tastings, and sales of their award-winning brews like the Florida Cracker white ale and special selections. Brewery tours run Wednesday to Sunday every hour, which provides background information on the company. They cost $8 and include samples and a souvenir glass.
Beer to Try: Jai Lai is their flagship beer, named for a sport common in India, and is an IPA. It's the perfect beer for a hot Tampa afternoon.
St. Petersburg Brewing, St. Petersburg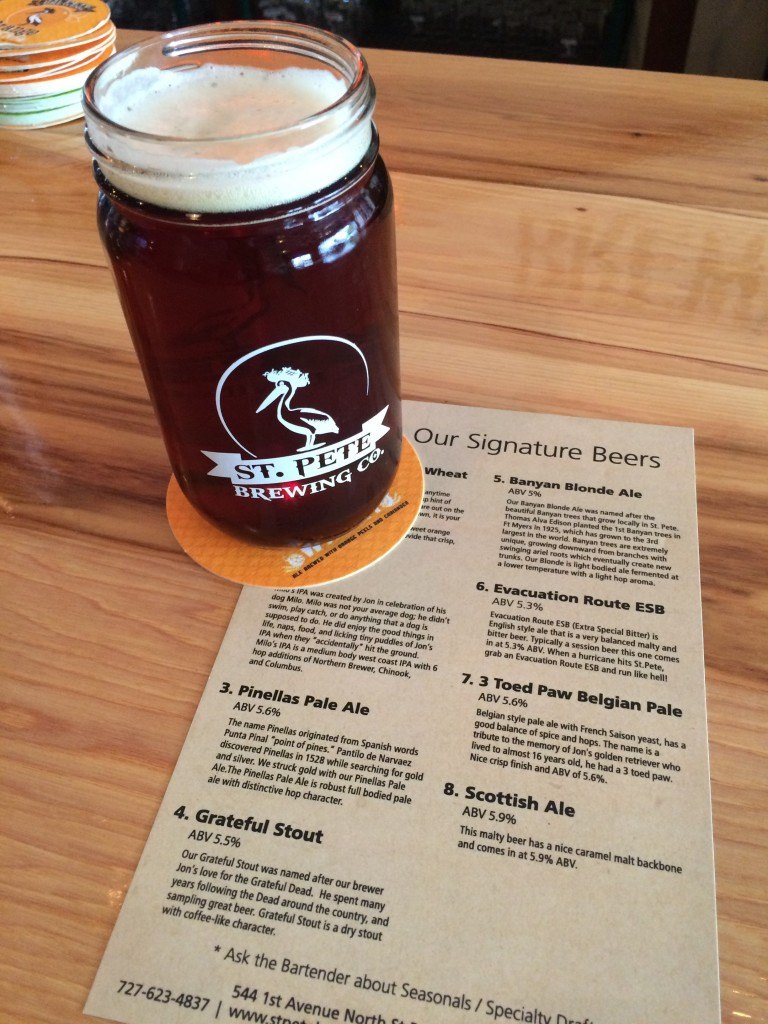 St. Pete Brewing Company is a smaller brewing operation in downtown St. Petersburg, just across the bay from Tampa. Open daily, the pub has weekly events and a food menu.
But most importantly, the brewery makes over 10 types of beer ranging from the light end with their Banyan Blonde Ale, to the dark end with their Goliath Grouper Imperial Stout.
Beer to Try: Scottish Ale is in the middle of the road, not too hoppy but with a nice caramel malt finish.
Mad Beach Brewing, St. Pete Beach
Mad Beach Craft Brewing Company is a full-service restaurant and brewery in a row of shops in the Madeira Beach area of St. Petersburg. They've got dozens of beers on tap including the Dolphin Drool dry-hopped IPA, Madeira Vice IPA, and even selections of cider.
Beer to Try: Life's A Beach is a popular selection and is an orange blossom honey wheat ale.
Wynwood Brewing, Miami
Wynwood Brewing Company also claims to be Miami's first craft production brewery but is located in the trendy Wynwood Arts District. It's easy to walk past the mural-covered building without noticing it, but the taproom often has food trucks parked outside.
The small tasting room has board games and a wall full of options for you to choose from open daily. Among their brews are the Magic City Pale Ale and La Pantera, a coffee stout made from local Panther Coffee.
Beer to Try: Sushi Roll Pils is a specialty selection with notes of cucumber, ginger, and wasabi.
Concrete Beach Brewing, Miami
Concrete Beach Brewery is another Wynwood brewery, located only a few blocks away. The tasting room has a large courtyard with cornhole and an outdoor bar. They're open daily for tours, sales, and events.
All of their beers are inspired by the area and are refreshing to drink. Stiltsville is a pilsner and Rica is a wheat IPA, but it's the specialties that shine. Grab a flight to try them all.
Beer to Try: Qué Quat Kumquat Berliner Weisse is their take on a sour beer with tart fruit notes.
Grayton Beer Company, Grayton Beach
Grayton Beer Company is one of a few breweries in the South Walton areas. Founded in 2011, the locally owned and operated brewery has a large facility and taproom where you can sample their year-round and rotating taps of brews. The taproom hosts events like oyster roasts, festivals, food trucks, and more. It's also a venue for the 30A Songwriter's Festival. Among the 25 taps, be sure to try what's rotating.
Beer to Try: Salt of the Gulf is a light gose that isn't too sour but has a touch of salt.
Persimmon Hollow Brewing, DeLand
Named for DeLand's former name, Persimmon Hollow Brewing Co, launched three years ago with the support of Kickstarter. The downtown brewery has a mural that shows how beer is made. Their brews are mostly ales and are made with local citrus and St. John's River water. Spent grain is then donated to nearby farms.
Beer to Try: Daytona Dirty Blonde is a great entry-level beer and one of their most popular.
Central 28 Brewery, Debary
Located in Debary, Central 28 Beer Company is set in an office park but is a cozy family-run brewery. They have both year-round and seasonal brews, including pale ales, porters, and IPAs as well as German-inspired selections. The tasting room is open daily for an afternoon beer and weekly yoga classes.
Beer to Try: Ms. Mary Brown is a hearty brown ale named for the tasting room manager.
3 Daughters Brewing, St. Petersburg
One of the many breweries in St. Petersburg, 3 Daughters Brewing is a family-owned operation that is the largest brewery in the area. It has a large tasting room with multiple rooms and outdoor space as well as an area for live music. But they don't have TVs so that you can focus on the experience. Started by a homebrewing duo, the brewery offers all ranges of beers, including blondes, IPAs, stouts, and red ales in draft and cans.
The tasting room is open Monday to Tuesday from 2 to 9 pm, Wednesday to Thursday from 2 to 10 pm, Friday from 2 pm to 12 am, Saturday from 12 pm to 12 am, and Sunday from 1 to 8 pm. They have weekly trivia, food trucks, and bands.
Beer to Try: All of the beers are made for light beach drinking, but the most popular is probably the Floating Dock Light IPA, which has the hops of a standard IPA but isn't bitter.
Fort Myers Brewing, Fort Myers
The area's most popular brewery is Fort Myers Brewing Company, which is also Lee County's first microbrewery. Like many others, it started with homebrewers. They have their flagship beers as well as seasonal varieties.
The tasting room hosts dozens of weekly events, including trivia, burger night, live music, and food trucks. The tasting room is open Monday to Wednesday from 3 to 10 pm, Thursday and Friday from 3 to 11 pm, Saturday from 12 to 11 pm, and Sunday from 12 to 8 pm.
Beer to Try: High 5 IPA is juicy and delicious, the perfect way to cool down.
Palm City Brewing, Fort Myers
Another Fort Myers brewery, Palm City Brewing has only been open for a year but is already popular for its unique beers.
The tasting room has burger night, trivia, and food trucks as well as games like foosball and cornhole. They're open Wednesday and Thursday from 4 to 10 pm, Friday from 4 to 11 pm, Saturday from 12 to 11 pm, and Sunday from 12 to 6 pm.
Beer to Try: City Juice IPA is a New England style IPA with Galaxy and Citra hops.