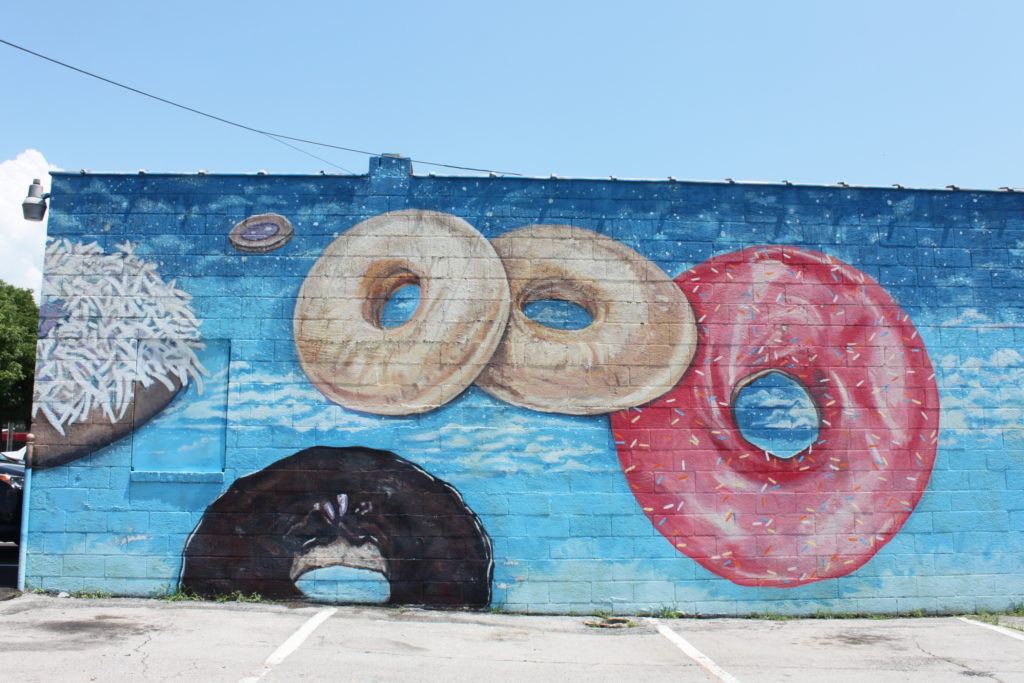 Often overlooked in favor of larger cities like Nashville, Chattanooga, Tennessee has a thriving street art and mural culture if you know where to look. There are many neighborhoods beyond the tourist district that have been revitalized with colorful paint.
Most of these works are commissioned, rather than illegal "tags," and are by local artists rather than those brought in. Groups like Public Art Chattanooga and The McCallie Walls Mural Project have set up these projects. For a list of murals around town, visit this page from the Chattanooga Convention & Visitor's Bureau.
This post contains affiliate links that earn income through purchases but don't charge you an added fee.
Southside Murals
The city's trendiest neighborhood is a great place to start your street art journey. The polka dot wall in an alleyway off Main Street (across from Clyde's On Main) is a popular spot for photos, but the artist isn't listed, as is the pizza mural at Southside Pizza.
Another food-centric mural is the donut by Joseph Giri at Koch's Bakery, above, where you can step inside for a real pastry. The wall next to Main Street Meats has its own colorful pieces, as does the walls around Get Built Chattanooga CrossFit.
Alongside The Crash Pad Chattanooga is the "Traveling Musician," painted by The Artist Seven, which honors the city's musical and railroad history. The neighboring Chattanooga Choo Choo also has some temporary art pieces on the interior side that faces Songbirds.
Martin Luther King Jr. District Murals
The historic district that honors Martin Luther King Jr. has murals relevant to him and African-American history. The largest, above, titled "We Will Not Be Satisfied Until" is by Meg Saligman Studios and covers two sides of the building.
Another, saying "I Have a Dream" is near J J's Bohemia and another of a musician is on the side of an abandoned building. Don't miss the portraits by Champy's and beyond the bridge on the same street, which has a piece featuring Martin Luther King Jr. by Kevin Bate.
Highland Park Murals
This neighborhood has so much pride that it has its own mural, above, by Clay Alexander that is located on the side of the building of The Refindery On McCallie.
Hollie Berry created the murals to the right, which depict famous strong women throughout media, titled "Four Horse Women." Anna Carll created the modern piece in the middle and the piece to the left features Native Americans. All were created as a part of the McCallie Walls Mural Project.
Other Neighborhood Murals
The Sculpture Fields at Montague Park are an interesting way the city has showcased sculptures. They have their own app that informs visitors about pieces within the park.
Milliken Park has a colorful mural over its historic gate, painted by Miami artist Eduardo Mendieta. Public Art Chattanooga partnered with neighborhood organizations and foundations to bring the whimsical mural to life. The Wilcox + Tunnel was renovated and now is covered with a mural.
Looking to learn more about the local art scene? Book a spot on the Chattanooga Art Tour.
PIN IT
Book your stay in Chattanooga using our preferred partner.