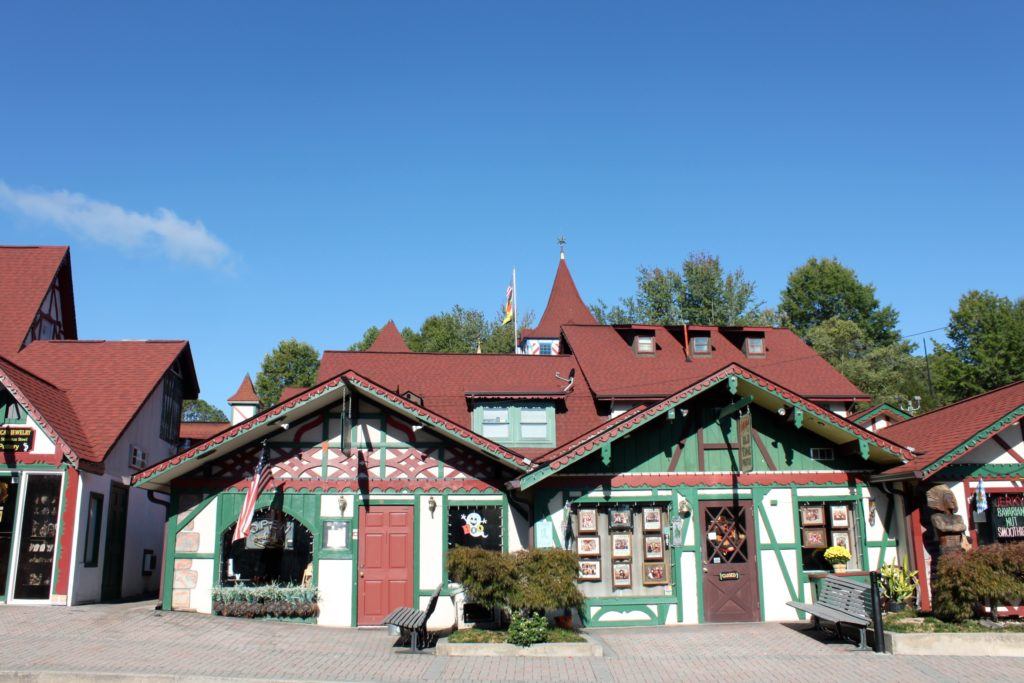 We've covered Georgia's wine country extensively, but Helen and surrounding White County have plenty to offer in their own right. This includes the Alpine-inspired town of Helen, artsy Sautee Nacoochee, and quaint Cleveland. The area was originally inhabited by Cherokee tribes and then European miners. The town of less than 500 residents also has one of the largest Oktoberfest celebrations in the United States after a 1969 business development meeting. The nearby state parks also provide opportunities for hiking and admiring waterfalls. Beyond wine country, here are a few of the things you can do to keep entertained in Helen and its nearby communities.
What to Do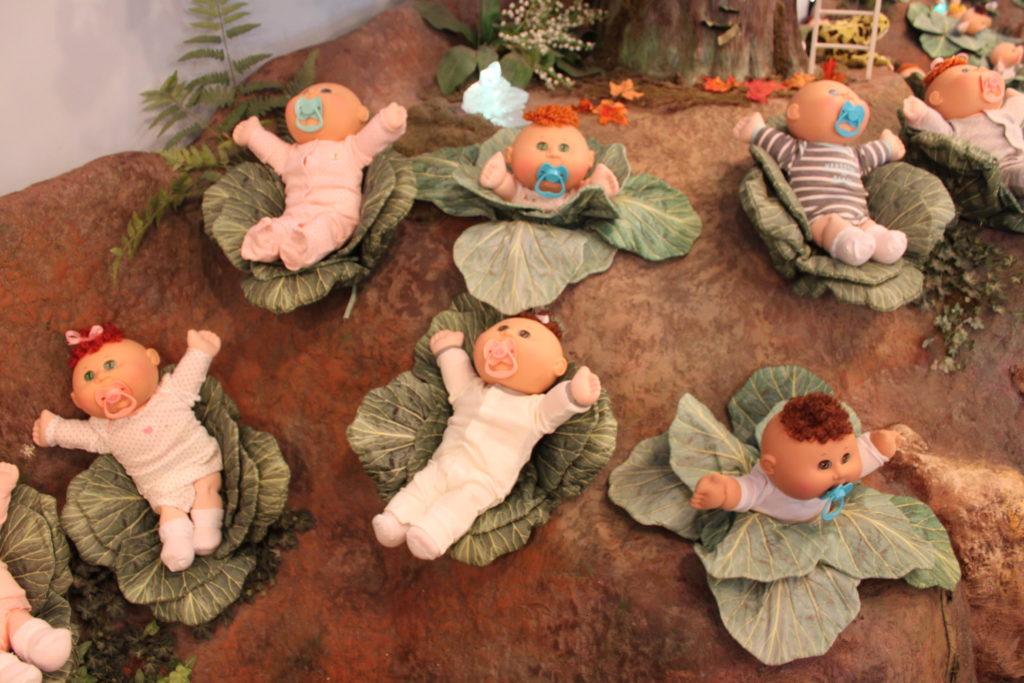 Anna Ruby Falls– Just one of many waterfalls in North Georgia, Anna Ruby Falls involves a short but steep walk up a paved trail to the lookout point. From there, you can go on one of three hikes, enjoy picnic facilities, or learn about local wildlife at the visitor's center. Anna Ruby Falls Road, Helen
Zip lining and aerial adventures– A few operators run zip lines and ropes courses near Helen. Screaming Eagle Zipline is one of the best, located within Unicoi. Nacoochee Adventures is another, along with Cool River Adventures and Sunburst Stables and Ziplines.
Folk Pottery Museum of Northeast Georgia– Located within the Sautee Nacoochee Center, this small museum charges a small admission to learn about the area's arts history, especially when it comes to pottery from the Native American time to the present. 283 GA-255, Sautee Nacoochee
North Georgia Zoo & Farm– Families will love this humble zoo, which has camels, zebras, and even water buffalo. Animal encounters include camel feedings, pony rides, and bottle feedings. They also host regular events. 2912 Paradise Valley Road, Cleveland
Sautee Nacoochee Center– Part gallery, part arts education center, visitors can browse the rooms that showcase the work of local artisans. The building itself is a former schoolhouse. 283 GA-255, Sautee Nacoochee
Stovall Mill Covered Bridge– One of the state's last remaining covered bridges, this 1895 landmark is close to the Sautee Nacoochee center. It's no longer operational but is a nice stop for a photo. 12 Rau Road, Sautee Nacoochee
Hardman Farm– Set across from the iconic Nacoochee Mound, the 173-acre farm includes a stunning 19th century home available for tours. A dairy also operated out of the barn in the 1900s. The farm is open for events seasonally. 143 GA-17, Sautee Nacoochee
Mini golf– Turn nearly any corner in downtown Helen and you'll find a miniature golf establishment. Alpine Mini Golf, Bavarian Mountain Miniature Golf, and Pirates Cove are just a few.
Tubing, rafting, and kayaking– These water activities are only open seasonally, but you can head out on the water during the summer using outfitters like Cool River Tubing, Helen Tubing & Helen Water Park, and Wildwood Outfitters.
Babyland General Hospital– This offbeat attraction is home to the creator of the Cabbage Patch Kids. Visit the cabbage patch where the dolls are "born" and adopt one for yourself. 300 NOK Drive, Cleveland
Hiking– Within Unicoi State Park, there are trails for all fitness levels and time frames. The easiest is the Lake Loop, while the Smith Creek trail is difficult one way. The park also offers paddle boarding, fly fishing, and mountain biking.
Wineries– Within a short drive of downtown Helen, you can find at least a dozen wineries. See our wine country guide in the link for a full list.
Where to Eat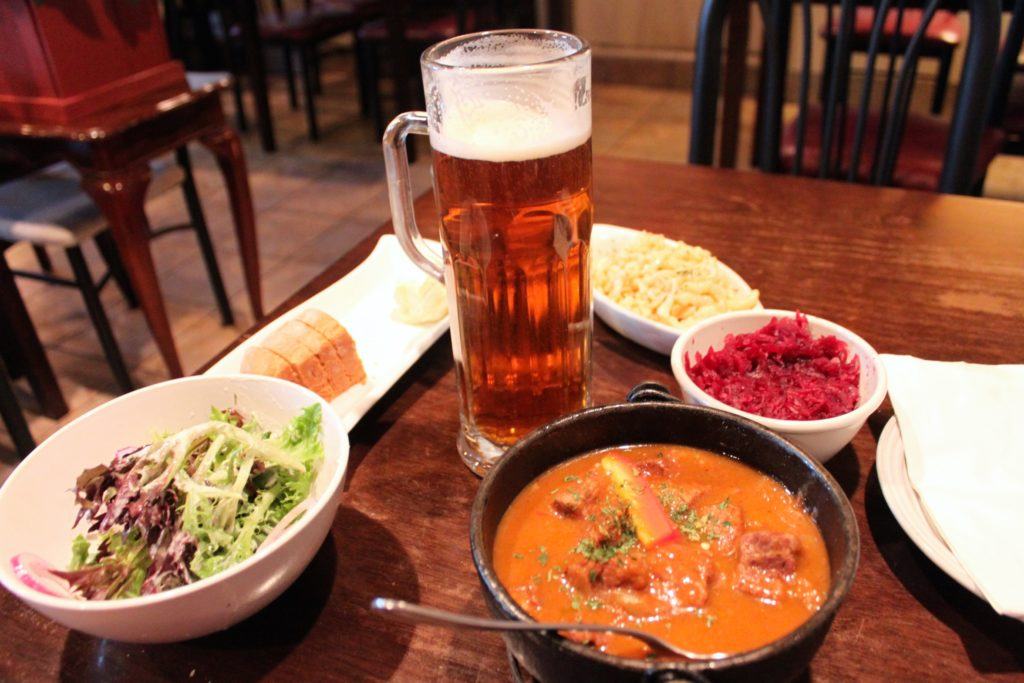 Hofer's– It's not uncommon to see a line out the door at this German bakery and restaurant. You're met with a large case of pastries as you enter. Breakfast should include doughnuts or apfelkuchle, a baked apple dish. They're also open for lunch, where the hot pastrami is the best. 8758 N Main Street, Helen, (706) 878-8200
Bodensee– Expect authentic German fare at this restaurant, whether it's goulash and pork knuckle or spaetzle and sauerkraut. Pair with an imported beer. Prepare for hearty portions. 64 Munich Strasse, Helen, (706) 878-1026
Yonah Burger– When you want your freshly made burger fix, head to this Cleveland joint. They're also open for breakfast for biscuits and eggs. 2051 Helen Highway, Cleveland, (706) 865-4791
Cafe International– Grab a table by the river as you chow down on international and European fare like French dip sandwiches. They also have their own parking. 8546 S Main Street, Helen, (706) 878-3102
Bernie's Restaurant– A mother-daughter team runs the kitchen at this homey restaurant where you're treated like family. The casual fine dining eatery has a regularly changing menu with local wine. 2220 GA-17, Sautee Nacoochee
Bigg Daddys– Don't let the name fool you. This sports bar has the best selection of craft beer in Helen as well as a diverse menu. On any given day, you might have tacos, burgers, or pizzas. 807 Edelweiss Strasse, Helen, (706) 878-2739
Sweetwater Coffee House–Caffeinate at this cozy coffee shop, which has indoor and outdoor spaces. Enjoy fair trade coffees and teas from Cafe Campesino, Thanksgiving Coffee Company, and Choice Tea. Hot and cold beverages are available, along with light bites. 2242 GA-17, Sautee Nacoochee, (706) 878-1521
Old Sautee Store|Old Sautee Market– This old-time general store is part museum, part store, and part restaurant. At the deli, expect sandwiches and Georgia Grown products. 2315 GA-17, Sautee Nacoochee, (706) 878-2281
Where to Stay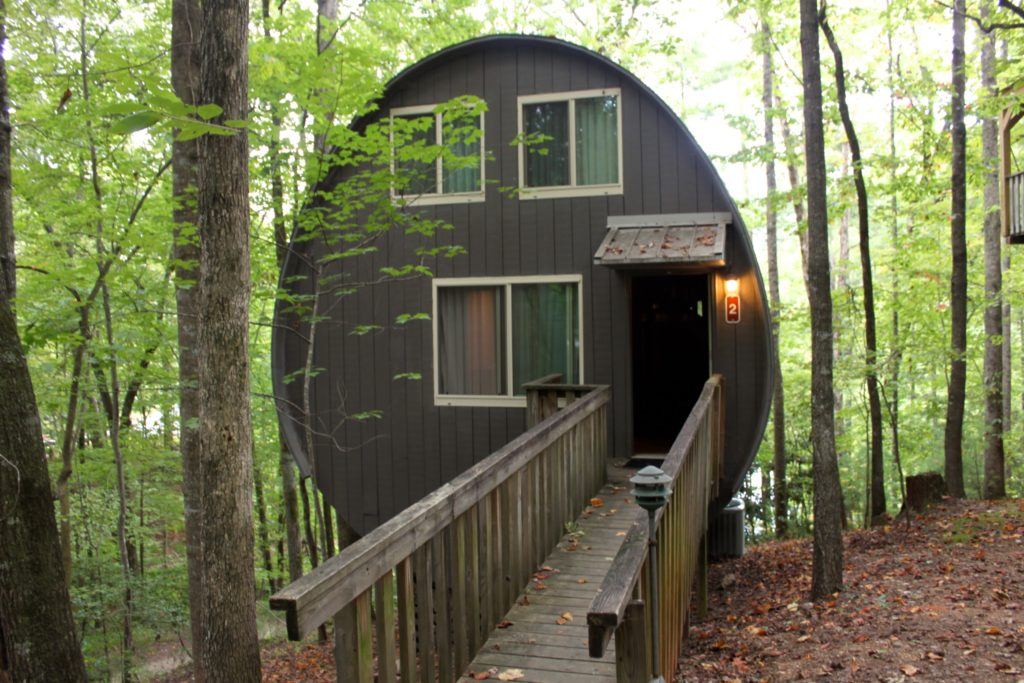 You can appreciate the great outdoors in Helen without actually camping. Unicoi State Park & Lodge has hotel-style facilities, wine barrel cabins, and rustic campsites. Yonah Mountain Campground also has campsites with amenities like playgrounds and a pool. Remote Smithgall Woods State Park has cottages and campsites as well. Back in town, Black Forest Bed & Breakfast has daily breakfast and all the creature comforts. Pamper yourself at Lucille's Mountain Top Inn and Spa, a favorite spot for weddings and honeymoons. Local outfitter Nacoochee Adventures has camping and treehouses in addition to their adventure offerings. You can also rent a house or cabin for you and your group on sites like Airbnb.
Book your stay in Helen with our preferred partner.
Explore Georgia, Laurie Rowe Communications, and Alpine Helen-White County assisted with research for this guide.