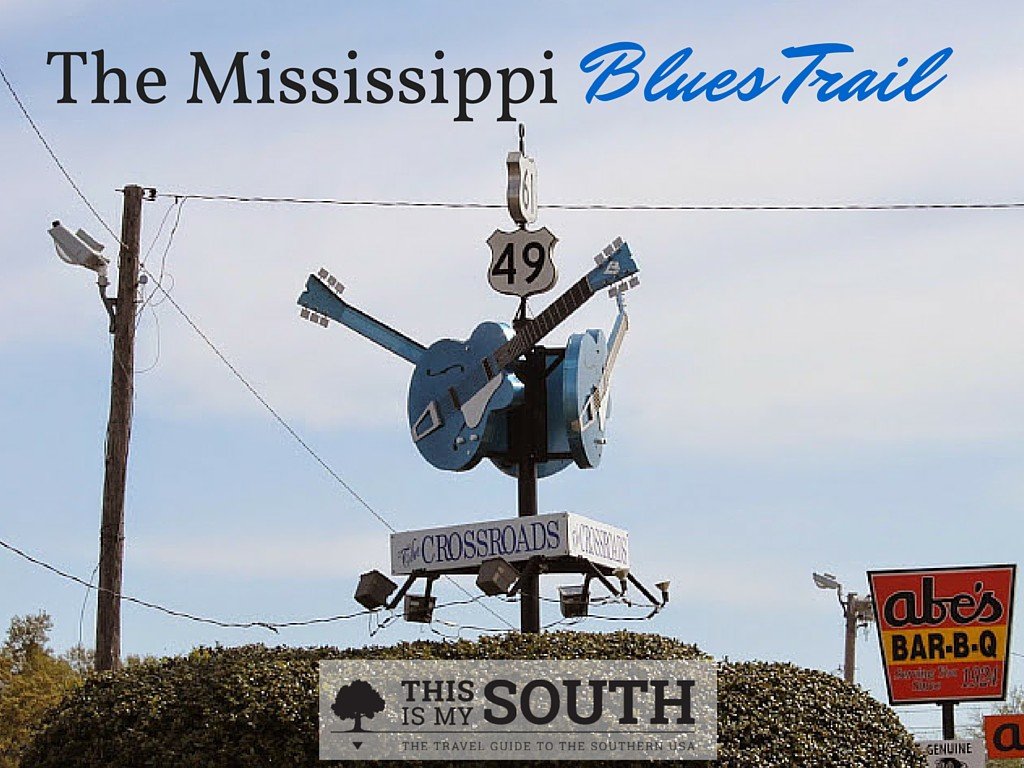 While not a traditional weekend trip like other destinations we've featured, the Mississippi Blues Trail, or the Mississippi Delta, makes for a great weekend getaway. Named for the floodplains between the Mississippi and Yazoo rivers, the region is where American music was born from the songs of sharecroppers.
This post contains affiliate links that earn income through purchases but don't charge you an added fee.
Today, there are blue markers on Highway 61 that denote significant music history. Rent a car in Memphis, preferably something classic like a pink Cadillac, and drive south, stopping at the area's famous juke joints and hot tamale stands. If you don't want to rent a car, you can also book a Mississippi Delta day trip from Memphis.
Each town has its own attraction, but some have more traditional "things to do" than others. I've also included places to eat and stay where applicable, focusing on the area's musical ties.
The Mississippi Delta begins in the lobby of The Peabody Hotel in Memphis and ends on Catfish Row in Vicksburg.
– David Cohn, Where I Was Born and Raised
Memphis
Memphis is actually located in Tennessee, but it's on the border with Mississippi and Arkansas and has played an important role in both blues and American history.
What to Do
As the quote above suggests, visit Peabody Hotel to see the lobby where Elvis signed his first recording contract and where the Peabody Ducks make their daily march to and from the lobby fountain. Music lovers should pay tribute to The King at Graceland and his contemporaries like Otis Redding at the Stax Museum.
Visit the music venues of Beale Street and see where Martin Luther King Jr. was assassinated at the National Civil Rights Museum. Sun Studio is open for tours and is where greats like Johnny Cash recorded. Learn about other important music landmarks on the Mojo Music History 90-Minute Bus Tour.
Where to Eat
Memphis is known for its dry rub barbecue and there's no shortage of places to try them. Charlie Vergos Rendezvous is one of the more famous establishments, but so are Jim Neely's Interstate Bar-B-Q and Corky's Ribs & BBQ, both located outside of Memphis proper. Central BBQ is another great option and a local favorite.
For something a little different, go to Flying Fish, known for its catfish. Iris and Beauty Shop Restaurant are also options recommended by residents.
Where to Stay
Perhaps no hotel is as well known in Memphis as the Peabody Hotel and for good reason. It was one of the first in the city and remains one of the crown jewels of the South.
For something slightly more modern, the Madison Hotel offers all the amenities with decor featuring music memorabilia. The Hu Hotel is a trendy downtown boutique hotel, while the Guest House at Graceland is right across from the home of the King.
Tunica
Tunica was once the poorest part of the nation but the rise of the gaming industry changed it all. But there's much more to see and do than the inside of the casinos.
What to Do
Start your journey at the Gateway to the Blues Museum, located in a historic train depot. It provides visitors with the history of the blues and its impact on the region. Enjoy interactive displays that let you create your own blues song and exhibits featuring famous musicians' instruments.
Tunica County River Park has miles of walking trails along the Mississippi and also has its own museum devoted to the wildlife of the area. Tunica Museums covers the county's rise from Native American settlement to present.
Where to Eat
Blue & White Restaurant is an old gas station that serves up doughnuts the size of your head along with Southern favorites like biscuits and gravy. The Hollywood Cafe was mentioned in both John Grisham's A Time to Kill and Mark Cohn's "Walking in Memphis." It also claims to be the original home of the fried dill pickle.
Where to Stay
Tunica's casinos have some five-star hotels attached to them, so no need to worry about finding a great place to stay. Gold Strike Casino Resort is a part of the MGM family and has top-notch service and amenities. Also nearby are the Sam's Town Tunica and Horseshoe Tunica Casino and Hotel as well as other budget-friendly casinos and chain hotels.
Clarksdale
Clarksdale is known as "ground zero for the blues" and has some of the most well-known juke joints in the region. Visit during one of the festivals for the full experience.
What to Do
Visit the Delta Blues Museum to learn about the town's blues history and see exhibits on important artists from the area. Then go to one of the many music venues around town, including the Hambone Gallery.
Ground Zero Blues Club is owned in part by actor Morgan Freeman. This legendary club is covered in graffiti from visitors and has some of the best Delta tamales you'll find on the trail. Also stop by the Crossroads, where Robert Johnson is rumored to have sold his soul to the devil.
Delta Bohemian Tours brings visitors to important Blues Trail landmarks in Clarksdale and beyond, hosted by a resident of the area in a Jeep.
Where to Eat
The must-eat dish is Delta hot tamales, so be sure to stop by Ground Zero or Abe's BBQ. Hick's Famous Hot Tamales is another favorite outside of town for its hot tamales and catfish. Mekari Roasting Company has locally roasted coffee and light bites. The Dutch Oven is an Amish bakery with pastries and sandwiches.
Where to Stay
Clarksdale has lots of funky places to stay for music lovers and visitors. Shack Up Inn is perhaps the most beloved, made up of restored sharecropper flats. It has its own restaurant and music venue and claims "The Ritz we ain't."
Blues Hound Flat and The Squeeze Box are self-serviced apartments above the main street in Clarksdale. Delta Bohemian Guesthouse is a funky inn where each room has a different design. There are also some chain hotels nearby and casinos. Chateau Debris is another eclectic option in the area with themed rooms, an onsite art gallery, a full kitchen, and a cozy front porch.
Greenwood
Greenwood is a small town that has served as a backdrop for movies like The Help. It's also home to Viking ranges.
What to Do
Viking Cooking School is one of the top things to do in the town where the stovetop company is based. There's also The Winery at Williams Landing, a small winery downtown that offers tastings, and Museum of the Mississippi Delta, providing information on the region's ecosystem and history. Detour to the north to see the historic maker at Bryant's Grocery, the last place Emmett Till was seen.
Where to Eat
Crystal Grill is another classic for its heaping steaks and sides. Giardina's Restaurant at The Alluvian is the more modern version of Lusco's, an old-school Italian eatery with private curtained booths.
Where to Stay
The Alluvian is the boutique hotel in the region, created by the Viking team, with its own spa, yoga studio, and restaurant. Tallahatchie Flats, on the other hand, is renovated shacks steeped in blues history. Each of the flats is decorated differently. There are also chain hotels in Greenwood like the Hampton Inn and Holiday Inn Express.
Indianola
Indianola is known for its connection to musician BB King as well as its nearby juke joints. Take the time to see what they have to offer.
What to Do
Perhaps the most significant stop in Indianola is the B.B. King Museum and Delta Interpretive Center. It discusses the history of the late musician and the Mississippi he grew up in as well as displays featuring his instruments. There's also an Indianola walking tour as well as Club Ebony, a famous music venue.
Where to Eat
The Crown Restaurant is a favorite, featuring a shop as well as Southern dining. The Blue Biscuit is another crowd-pleaser, located across the street from the BB King Museum, with a more casual atmosphere. Pea-Soup's Lott-A-Freeze is a unique spot resembling a drive-in with a diner feel.
Where to Stay
Like some of its blues trail contemporaries, Indianola has some unique accommodations. The Blue Biscuit Bungalows are attached to a beloved restaurant near the center of town. The Quality Inn Indianola is close to downtown and has free breakfast.
Vicksburg
Home to a significant Civil War battle, Vicksburg is known as the end of the Mississippi Delta, particularly at "Catfish Row," a region portrayed in George Gershwin's Porgy and Bess.
What to Do
Vicksburg National Military Park pays tribute to the fallen soldiers on both sides of the Civil War, a must-see for history buffs. Included in this National Park Service-run facility are the U.S.S. Cairo Gunboat and Museum and the Vicksburg National Cemetery.
The Biedenharn Coca-Cola Museum is where Coca-Cola was first bottled outside of its home state. The Jesse Brent Lower Mississippi River Museum tells of the river's impact on the area while the Old Court House Museum has artifacts from the Civil War. A number of historic homes also offer tours throughout the year as well as scenic drives and ghost tours.
Where to Eat
For more upscale dining, try 10 South, a rooftop bar, or their sister restaurant ROCA Restaurant & Bar. The Breakfast Club of Vicksburg is a go-to for breakfast and brunch while Goldie's Trail Bar-B-Que has pit-style pork featured in countless publications.
Where to Stay
Casinos and historic bed and breakfasts are the accommodations of choice in Vicksburg. Ahern's Belle of the Bends Bed and Breakfast is named for the ship that brought Teddy Roosevelt to Vicksburg. Duff Green Mansion has cozy rooms around a courtyard.
Ameristar Casino and Resort is another favorite, offering AAA diamond level service, as well as the Margaritaville Hotel Vicksburg. There are also a number of campgrounds and RV parks in the area.
Cleveland
Named for President Grover Cleveland, Cleveland is home to the Grammy Museum for its significance in American music history. There's no shortage of historical landmarks and music venues.
What to Do
Start your trip at the Delta Center for Culture and Learning for the history of the region and an exhibit featuring life masks of dozens of blues performers.
Hazel & Jimmy Sanders Sculpture Garden is located on the campus of Delta State University and features unique art pieces. Learn about a former Red Sox player from the region at the "Boo" Ferris Baseball Museum, also on the Delta State University campus.
Dockery Farms was a cotton farm where a number of blues performers worked. The Grammy Museum honors the significance of the music of artists in the region in modern American music. Get your GRAMMY Museum Mississippi General Admission before you go.
Downtown Cleveland also has the Martin & Sue King Railroad Museum, which contains a model train and artifacts from Mississippi's railroad history. Be sure to stop by McCarty's Pottery, a family-run artisan company.
Where to Eat
Delta Meat Market has been nominated for a James Beard award for its take on modern Southern fare. Bar Fontaine has rooftop views and an incredible menu of Italian favorites. Airport Grocery is a local favorite for its fried pickles and barbecue nachos. There's no better soul food in town than The Senator's Place, owned by a local senator.
Where to Stay
Cotton House Hotel is the region's first boutique hotel and is a part of Marriott's Tribute Portfolio collection. Stylish rooms feature record players, cozy bathrobes, and top-of-the-line toiletries. The rest of Cleveland's accommodations are chains including Hampton Inn and Holiday Inn Express.
Greenville
Greenville has some surprising claims to fame, including being the home of Jim Henson and Native American history.
What to Do
Birthplace of Kermit The Frog Museum is a museum devoted to Jim Henson, a native, and his most famous creation. Belmont Plantation is one of the few Antebellum homes left in the area and is open to visitors. Cypress Preserve is a nature preserve devoted to the majestic trees.
The area also has its own museum to the blues, the Highway 61 Blues Museum in neighboring Leland. The Winterville Mounds date back to the early days when the Native Americans inhabited the area now known as Greenville.
Where to Eat
Doe's Eat Place is one of the most famous restaurants in the Delta, known for its hot tamales and steaks the size of your head. In fact, Greenville has the most tamale restaurants and, if you ask the locals, the best. Cajun Shotgun House serves large portions of Southern, specifically Cajun, food and seafood. Delta Grind is one of the area's few locally-owned coffee shops.
Where to Stay
Here your options include a few budget chain hotels and inns and bed and breakfasts. Belmont Plantation and Harlow's Casino Resort & Spa are two options. Cabin on the Bogue is a rustic rental property.
Yazoo City
Known as one of the first places where blues was played, Yazoo City was first incorporated as a town, then known as Manchester , in 1830.
What to Do
Sam Olden Historical Museum features the history of the town and surrounding area, including displays featuring fossils, information on Casey Jones and famous Yazoo City residents.
Wells Ranch is an educational farm popular with school groups and Blue Front Cafe is the place to see blues music. Glenwood Cemetery is home to the final resting place, and much of the legend surrounding, the "Witch of Yazoo."
Where to Eat
Ubon's Restaurant's barbecue recipe has been passed down over generations and won awards. Hall of Fame Restaurant is run by Football Hall of Fame member and Yazoo resident Willie Brown. P Reaux Cajun Mudbugs offers Cajun crawfish and other seafood.
Where to Stay
Choose from chain hotels like the Hampton Inn and Best Western as well as RV parks. For something more local, try The Main Street Hotel.
My trip through the Mississippi Blues Trail was organized and sponsored by Visit the Delta and Visit Mississippi. Plan your own trip to the Mississippi Blues Trail on their website.